Out of those intelligent tricks to make your appearance sparkling gorgeous also includes these chic white nail arts designs to try in 2016. Just like a kid is incomplete without his mother, your stun will never be at its peak until you get proper pedicure and manicure.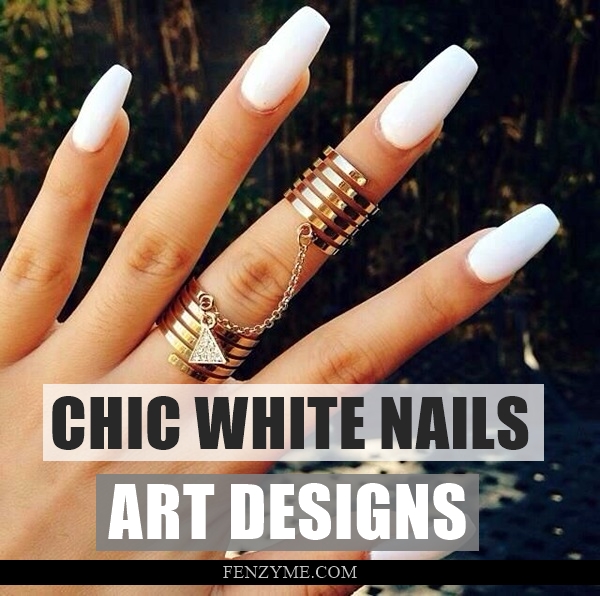 Moreover, this white enamel burst on the vibrant guise when matched up with your perfect outfit and glamorous hairdo. If you're the one having very joyful nature then, you must try varieties in your life and different colored nails as well. Why don't you think of going with these too;
Chic White Nails Art Designs
Polka Nail Art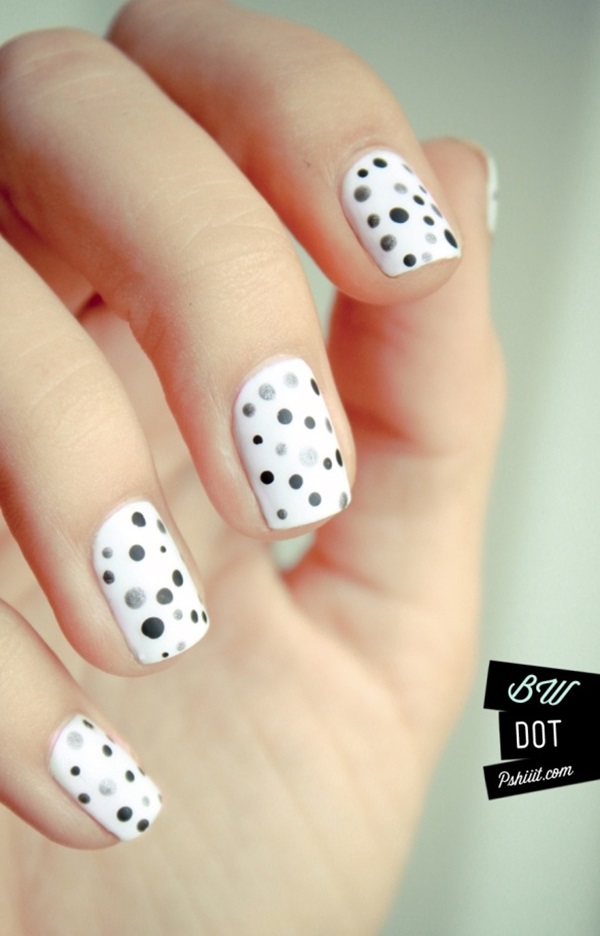 Random polka artwork in fifty shades of grey on a sexy white base coat anyway glam up the appearance. You will also love including colors instead.
Ombre Acrylic Manicure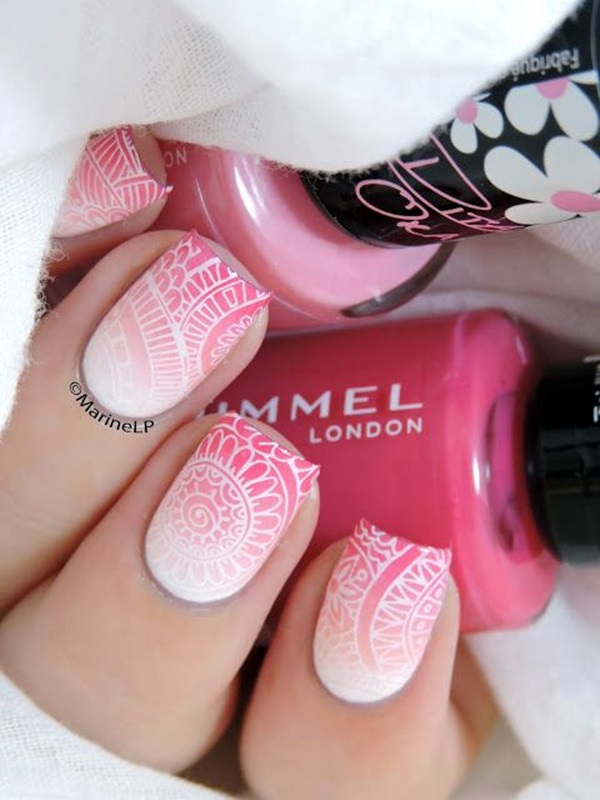 Gets this pink to white blush effect with a soft sponge thereby adding up a chic acrylic designing. And then adding up tribal detailing is a fun in itself!
Dynamic Digital Artwork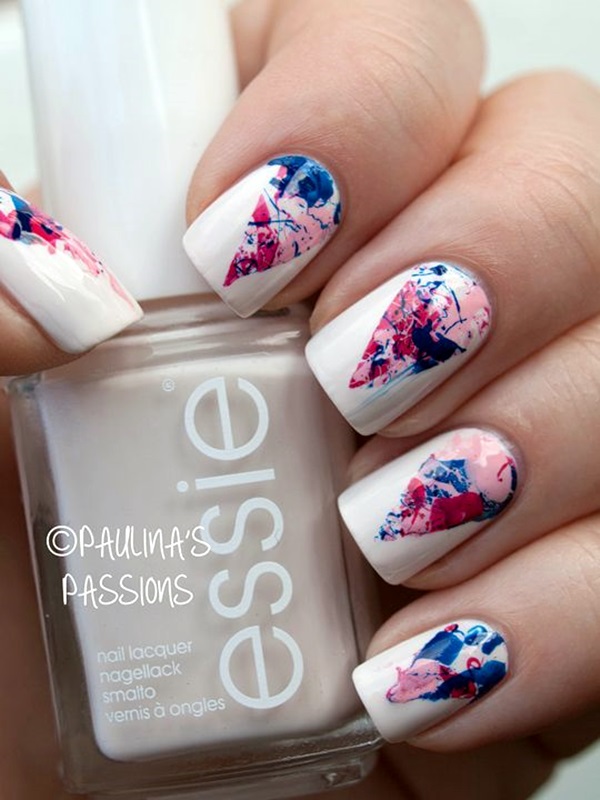 White base and sticking tape fun is all here that gives a digital look when mixed with several lively colors. You may also give any other shape to this digital artwork instead of triangle.
Cute Kitty Manicure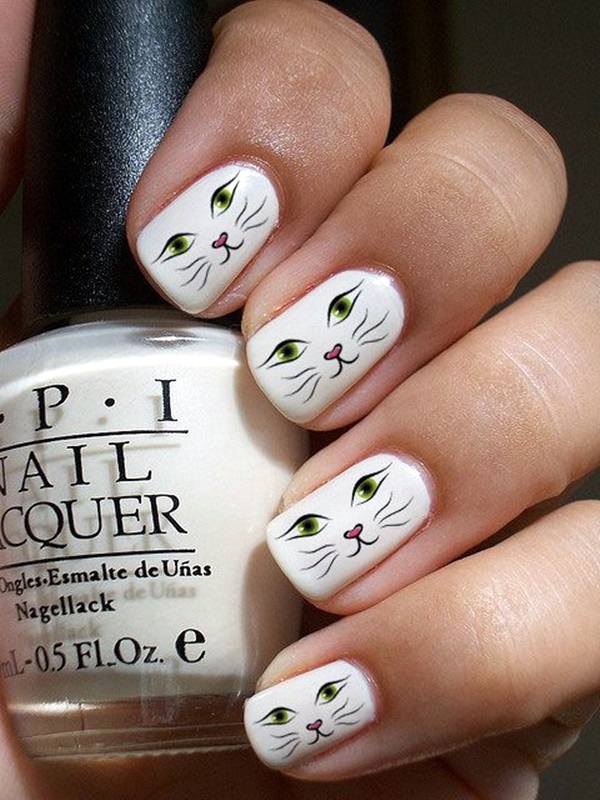 Either you get this simple face on a white base or getting a black kitty over the base of white is also a great.
Fun with Geometry!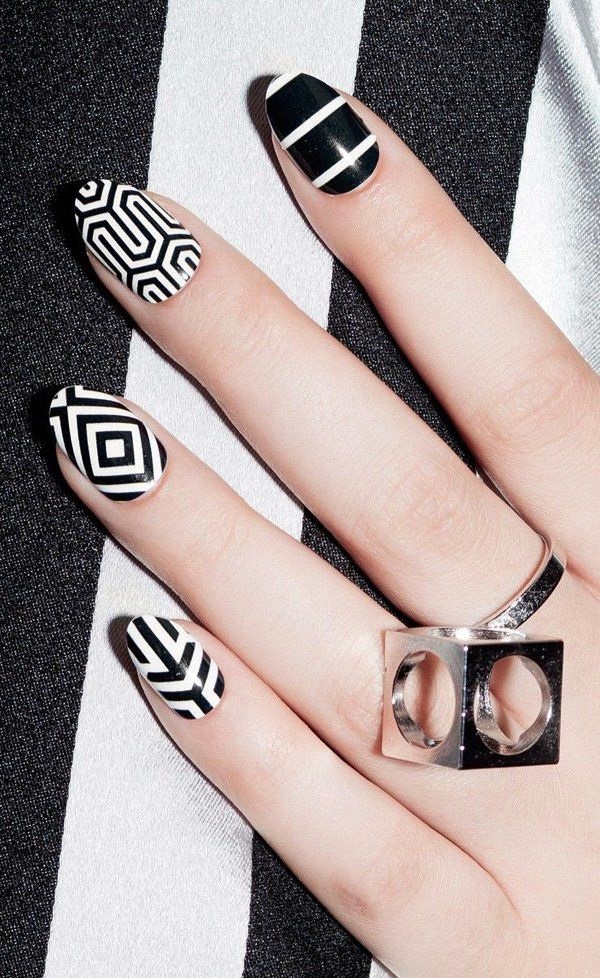 Black and white is anyway out of the globe when a hint of geometry and its wonderful symmetry is added up to those playful manicure designs.
Ombre Blue Skylight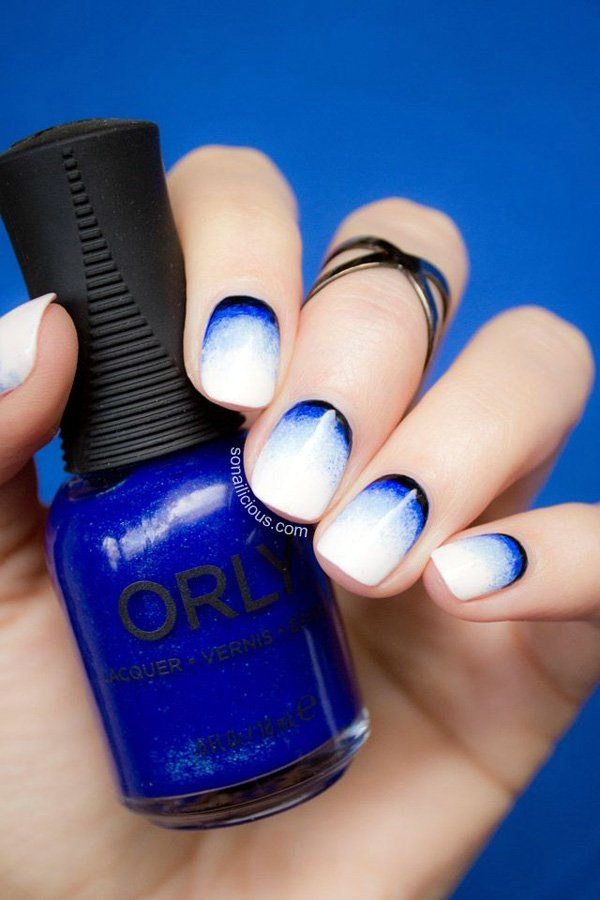 Blue ombre with tint of black border and white looks ravishing when shaded up perfectly. You will love getting this scintillating effect in glittery hues as well.
Leafy Wines Vogue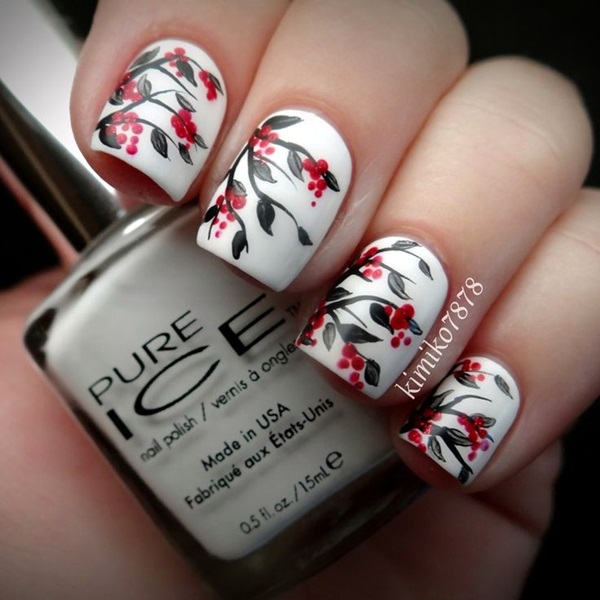 Wines do give a natural touch but what makes it unique is the choice of colors. And when you put this green artwork in black, the story is totally different.
Golden Metallic Triangle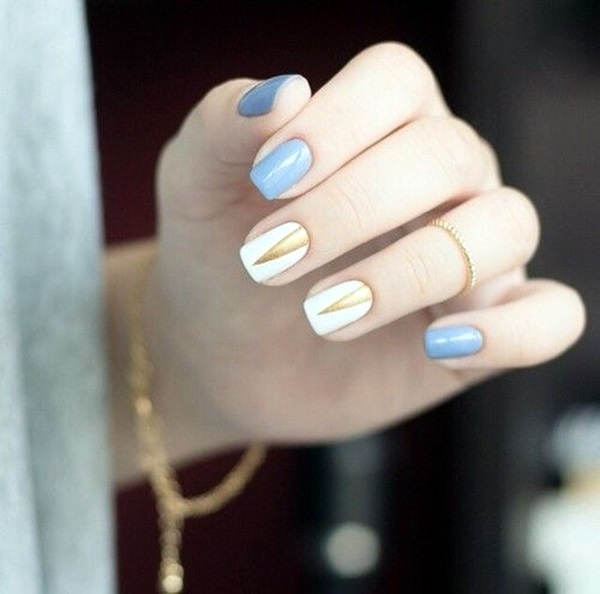 Grey and white has always been a professional yet stylish combination wherein this golden metallic hue brings about an incredible stun.
"LOVE" Manicure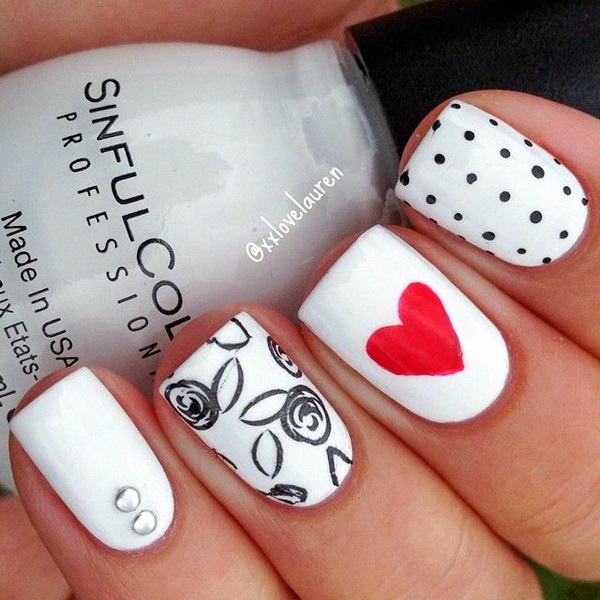 Rose and heart have always been the favorite symbols for love which in fact, looks appreciable when paired up with classy red color manicure.
Studded Cross Inverted Nail Art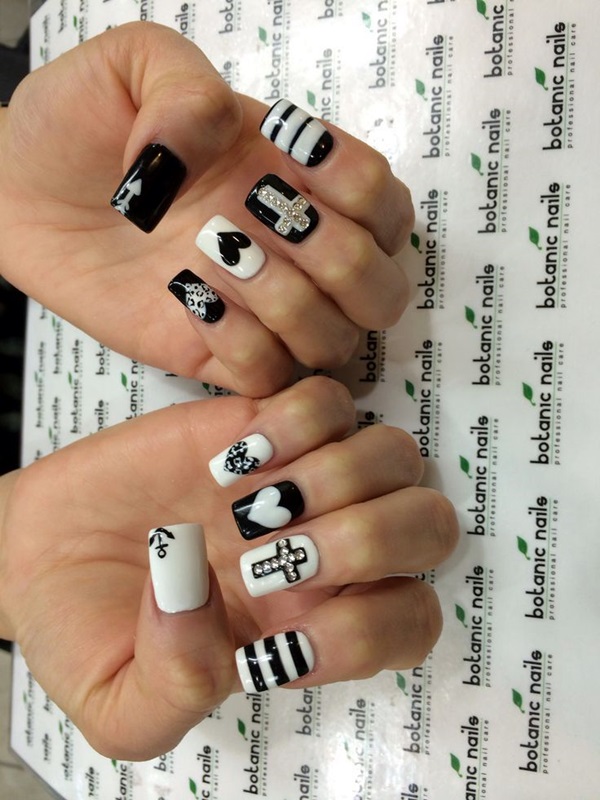 Cross because you love Jesus and inverted because of this intelligent idea of getting base inverted with the top coat along with dazzling rhinestones.
Strappy White-Red Manicure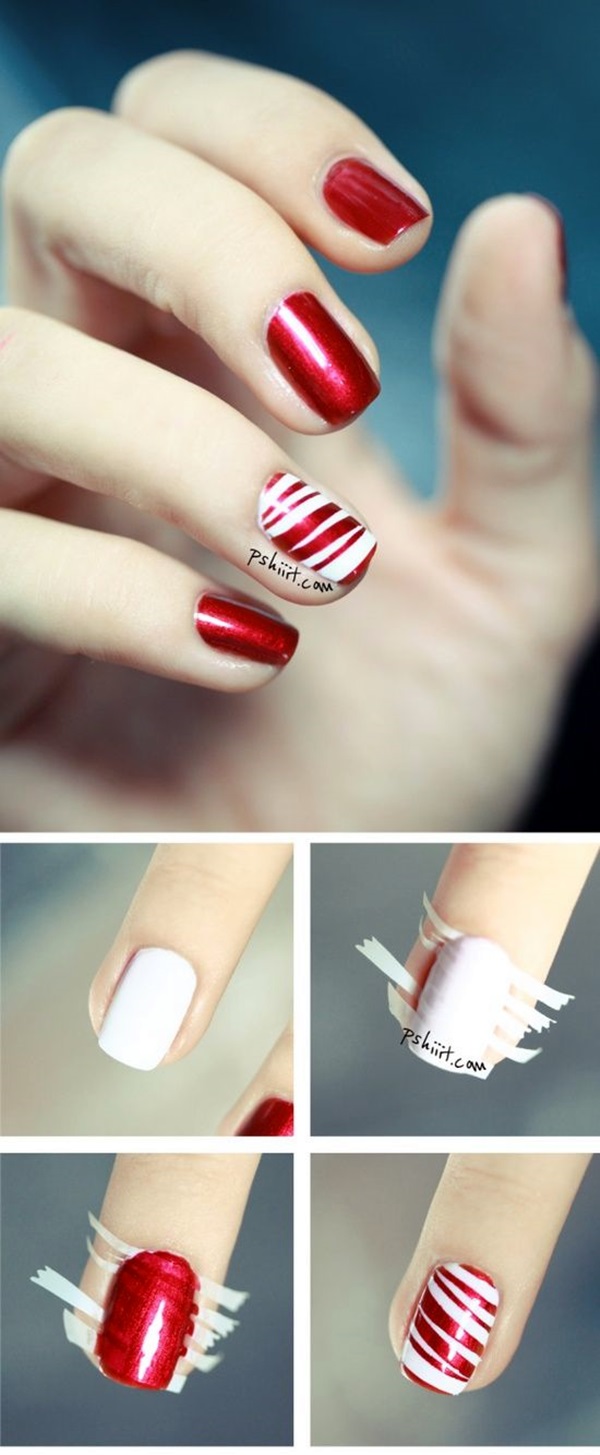 This shall be the Christmas special manicure since it gets you the most exotic nail art and that too in just 5 minutes. All you need is an enamel and sticking tape. Voila!
Blush Pink Floral Design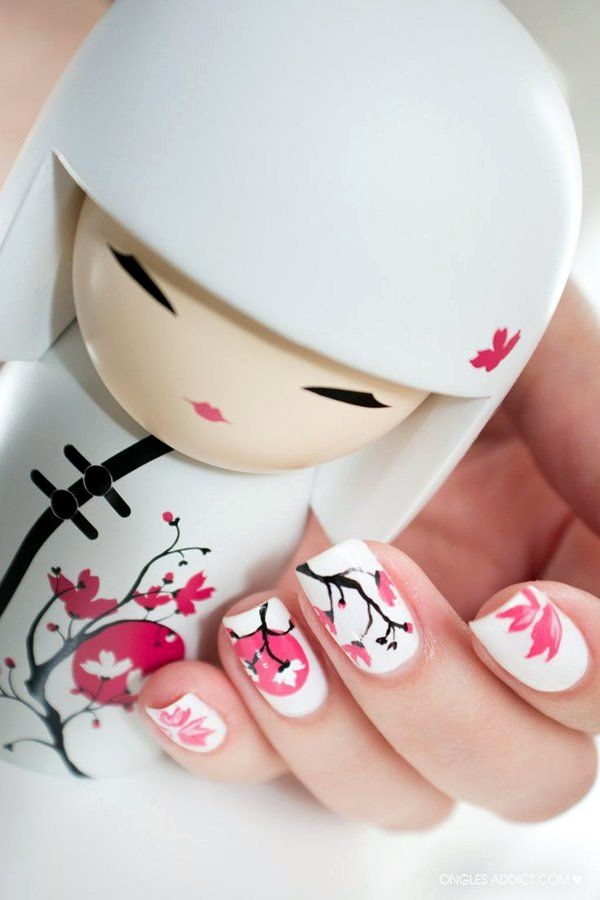 White anyway looks great with pink and so you will enjoy getting this blush pink floral design over white base. Don't forget to fascinate it with studs as well.
Colored Polka on White Base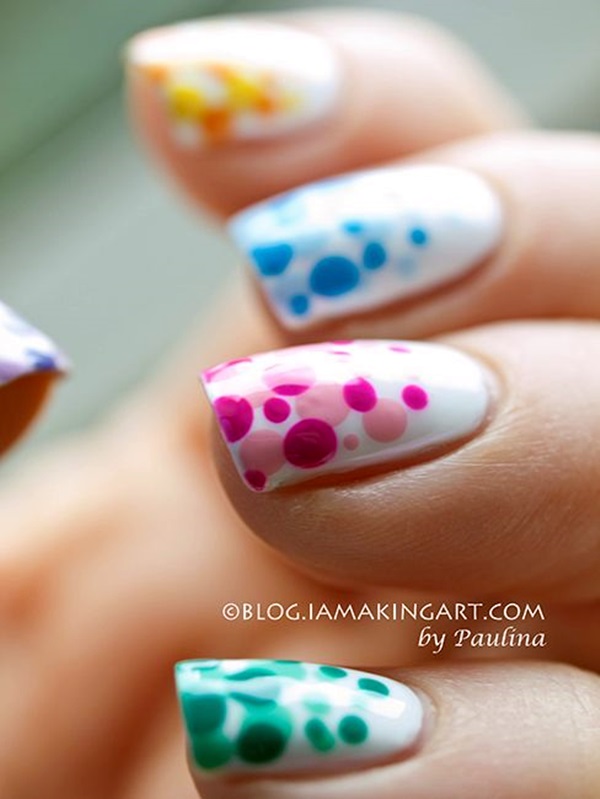 Colors playing with polka on white base with exotic style that will look awful with different colors on different fingers fashion.