Nail art trend is on rise in the history of fashion industry. It's becoming popular day-by-day because the interest of the women in designing their nails according to a particular occasion, festival and their mood is increasing. Women love to have latest patterns on their nails. They always want to look cute, pretty and adorable.Easter is here again, this year young girls and ladies will going to rock the festival by painting their nails beautifully with Easter nails art designs.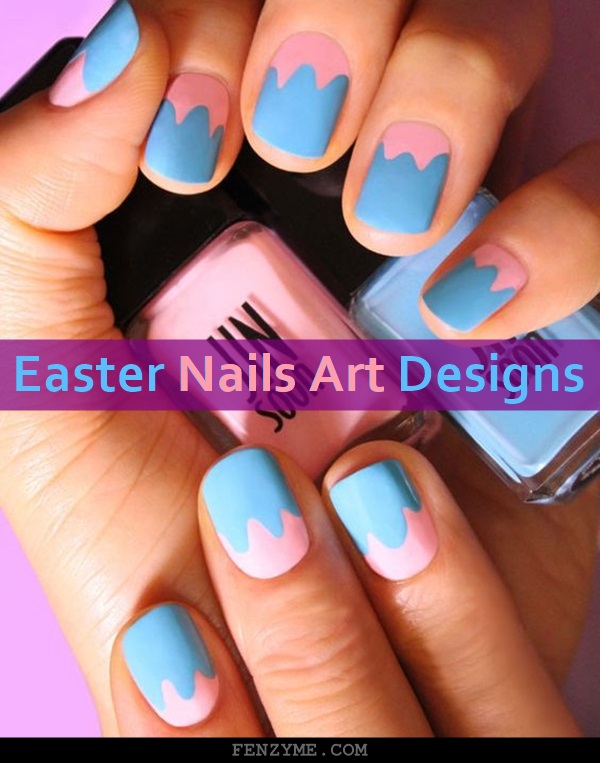 If you want to make changes in your nail designs, then the symbols of Easter are a good source of inspiration and perfect to give spark to your creative thoughts. It's obvious that no Easter nail design is complete without cute bunnies, chickens and small eggs. In order to celebrate Easter with more enthusiasm and excitement this time, here are some attractiveEaster Decorations Ideas that will make Easter celebrations as memorable holiday.
Easter Nails Art Designs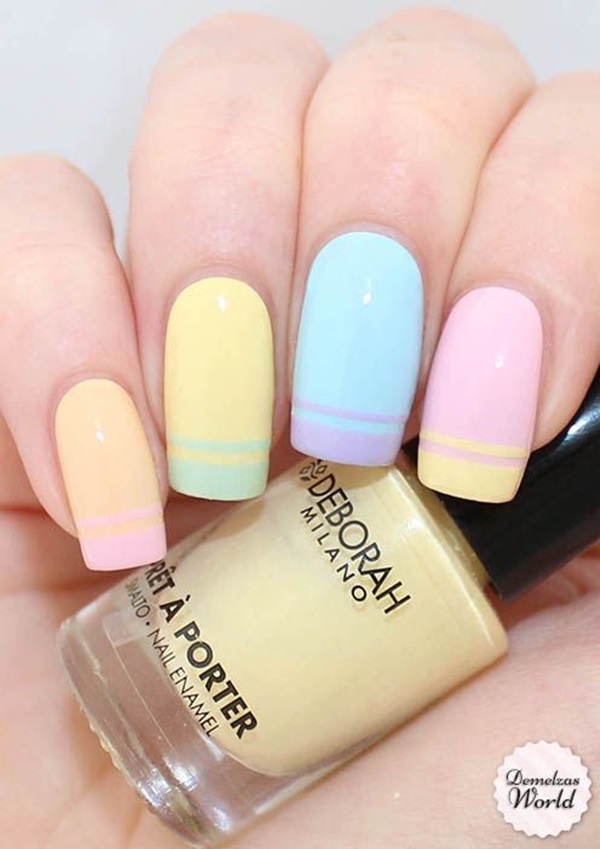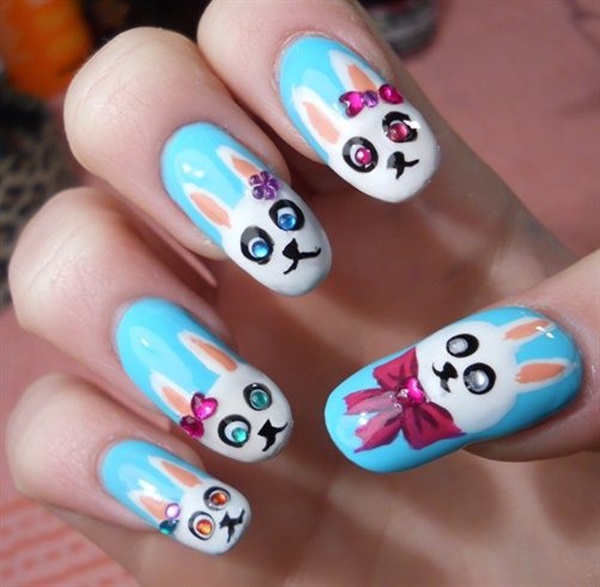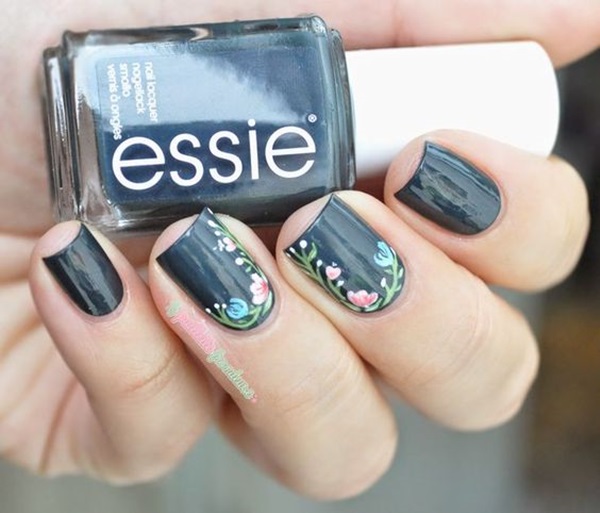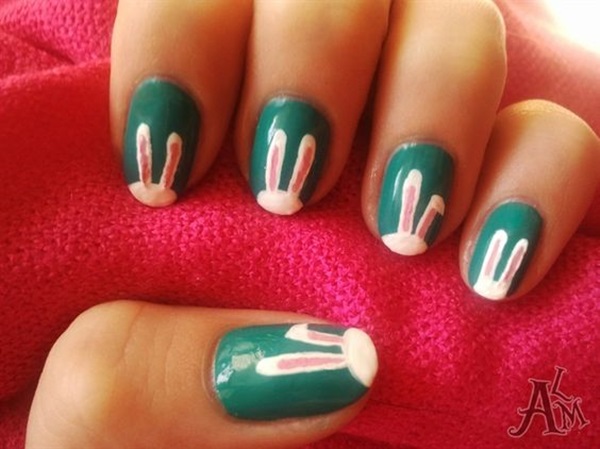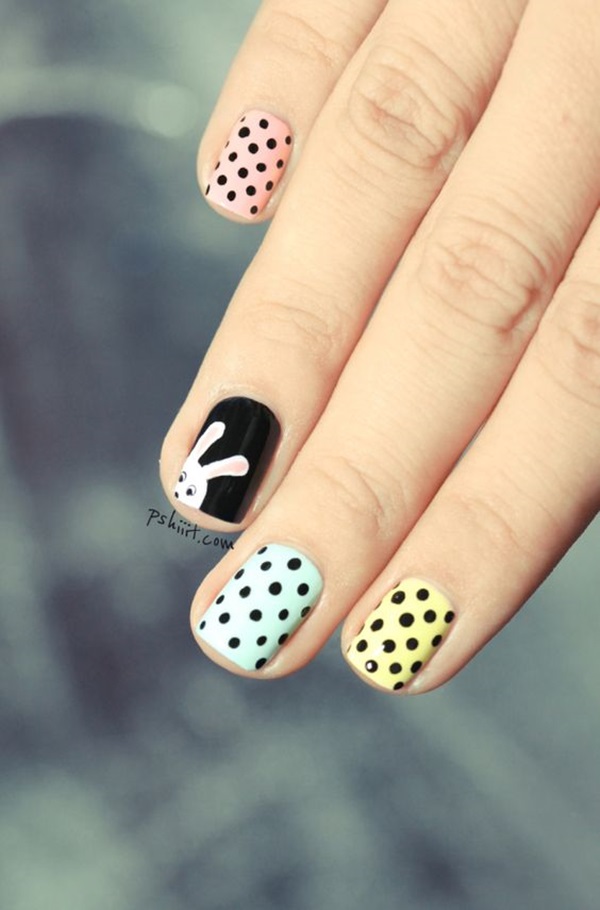 Today, we bring a whole new list of Easter nails art designs just for you. If you are a beginner and not familiar with nail art, you will love to see how simple and easy is to draw Easter nail Easter bunnies on your nails.
Bunnies with Carrots Easter Design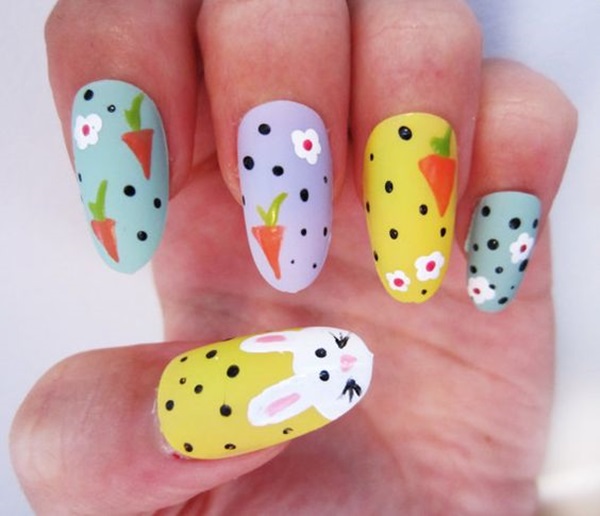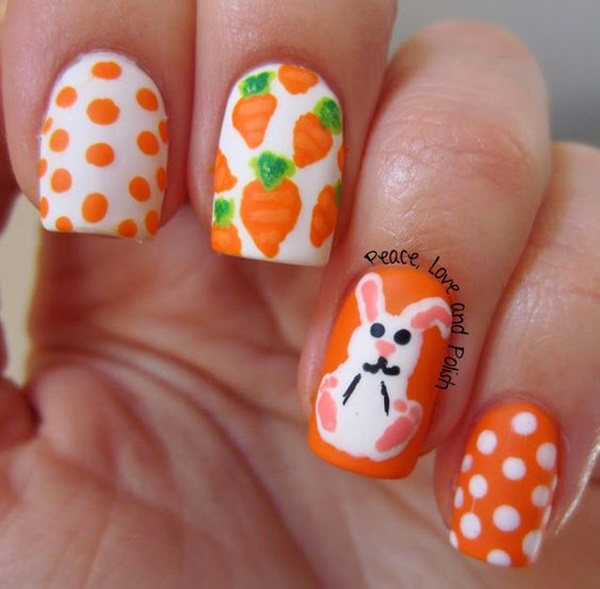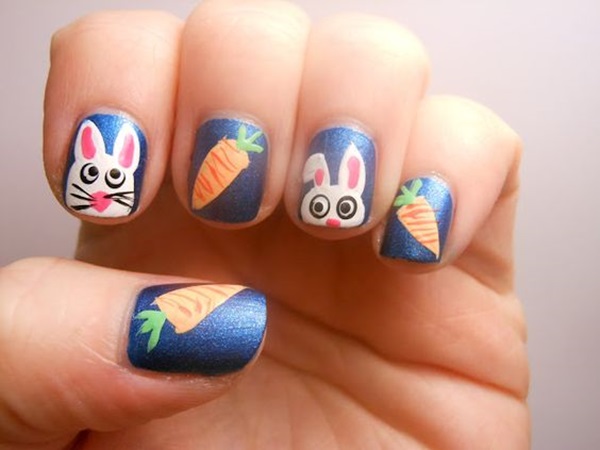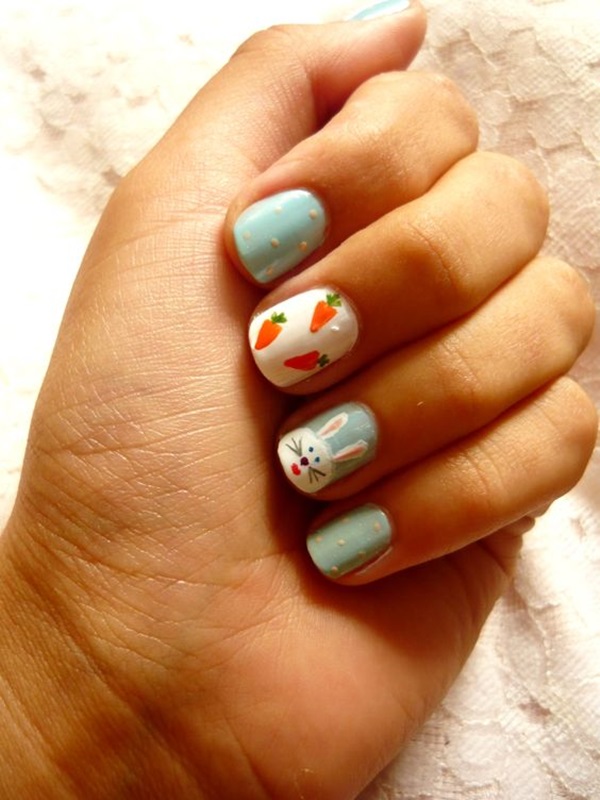 If you want your nails to look glamorous and cute throughout the Easter celebration, then brown bunnies with carrots design is a superb option to go with. You can achieve this highly appreciated pattern by painting the base with light cream color and then drawing different postures of bunny's face with a red color carrot on the tips of your nails. The design is perfect for cheering your mood when you are sad.
Small Chicken Design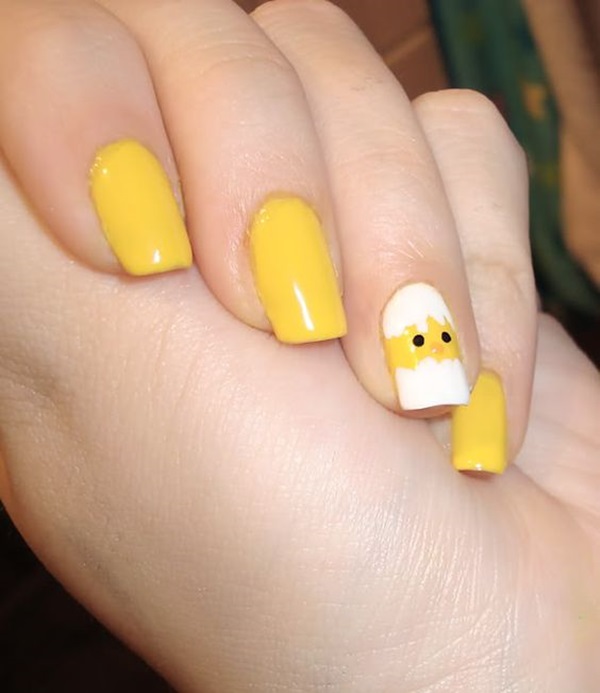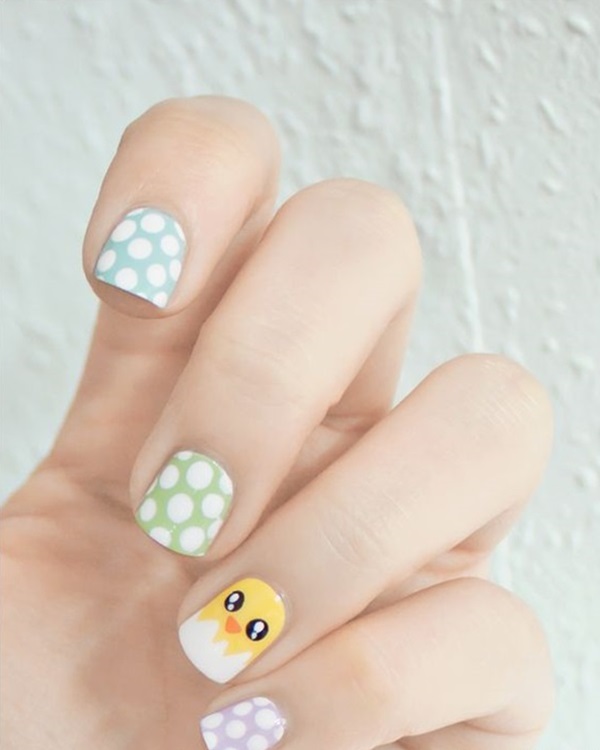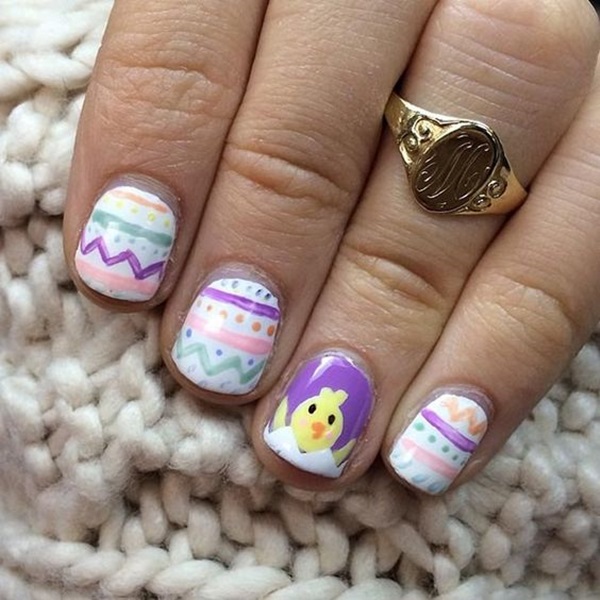 The design reflects the hidden childish nature inside you. If you strongly believe in the theory of freedom of birds and have immense love towards all birds, then you can present your thought in front of everyone by getting the small chicken design placed on your nails. Don't forget that Easter is the correct time to achieve this look.
For this, paint the base with a combination of cream-white and draw yellow chicken on the tips of nails using various nail art tools.
Easter Bunny Design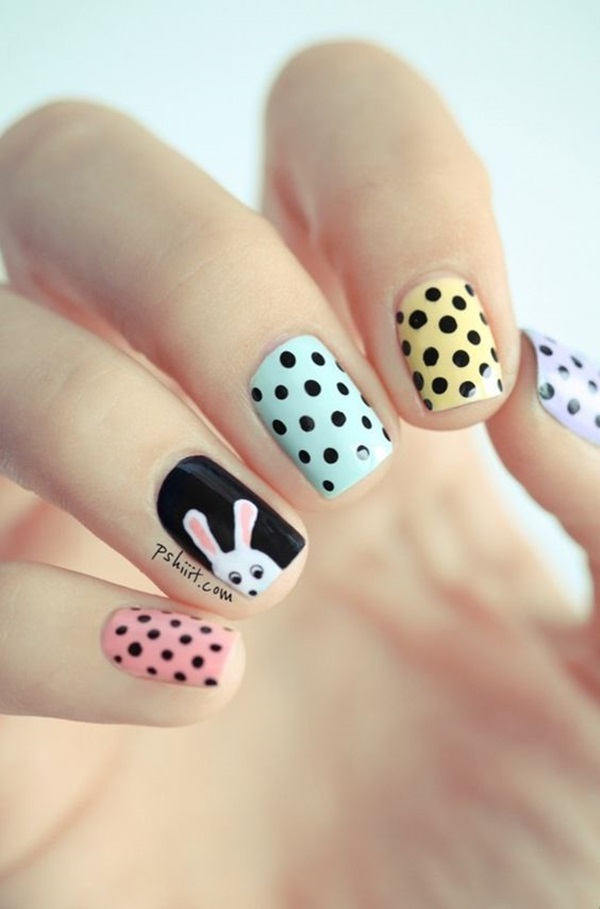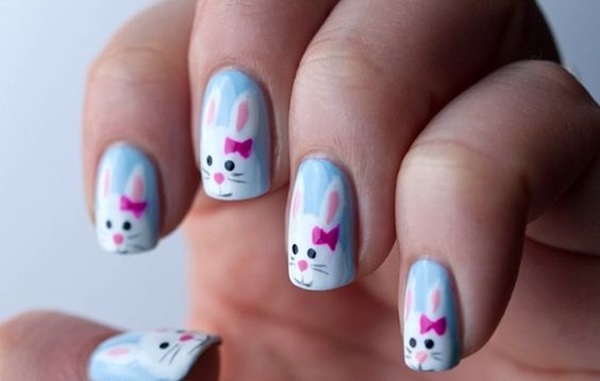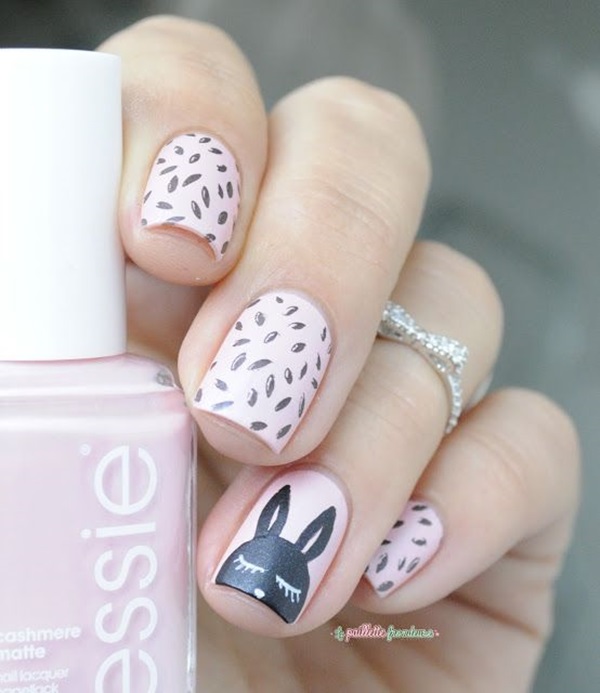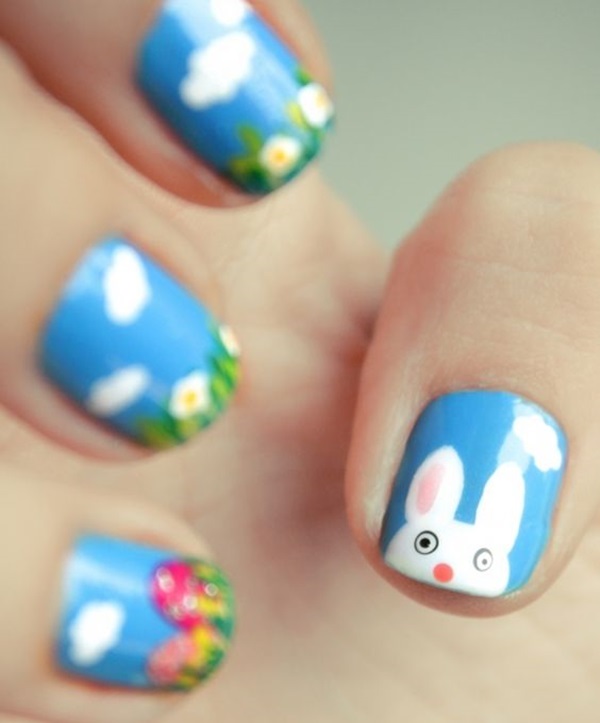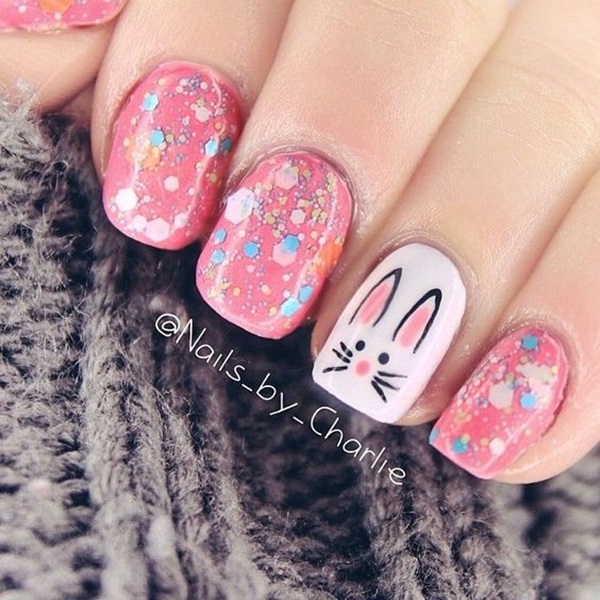 Easter nails art designs add more charm to your look even if you worn a simple outfit. Though the bunny design is simple, yet quite appealing in it's appearance. If you want to make your kids or loved ones happy, then bunnies with a smiling face are excellent choice. You can wear this design freely, if your Easter party is based on the theme of cute animals. To give soft look to your nails, you can draw bunnies with a combination of white and pink colors.
Yellow chick with a Bow Nail Design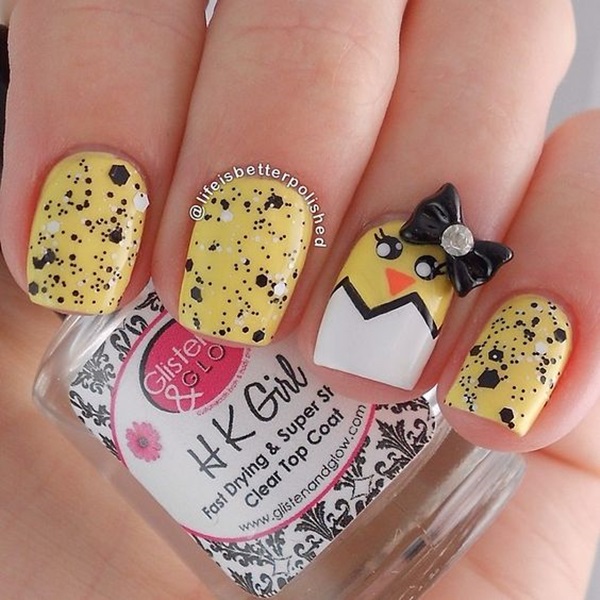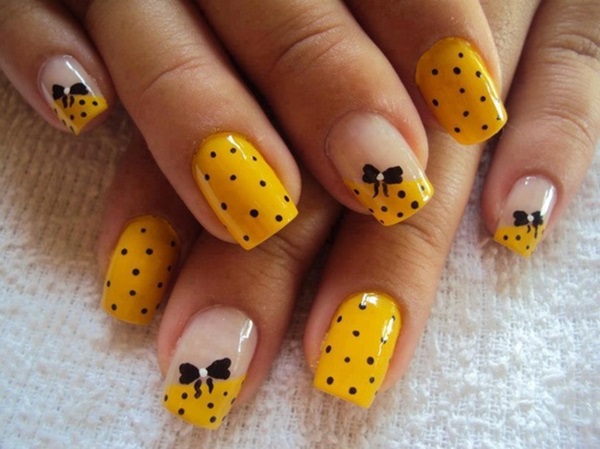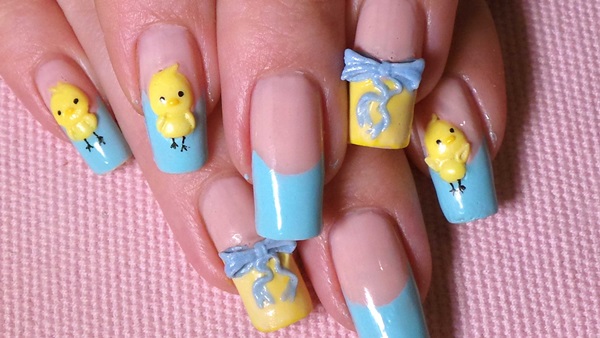 Before you get started with your favorite yellow chick design, it's important to make sure that you have assembled all required accessories with you.
Simply color four fingers of your hand with yellow base and add shimmer over it, except the center figure.
Keep the base of center figure white and draw chick's face with a bow placed at the corner of nail.
You can use different nail art tools like – tweezers, cotton swabs, transfer foils to create proper finishing effect.
Colorful Easter Eggs Nail Design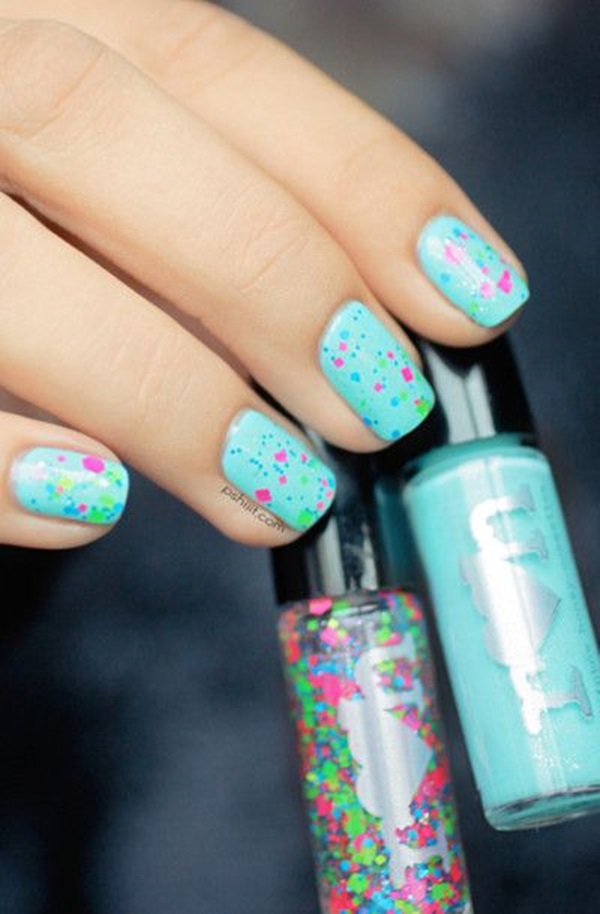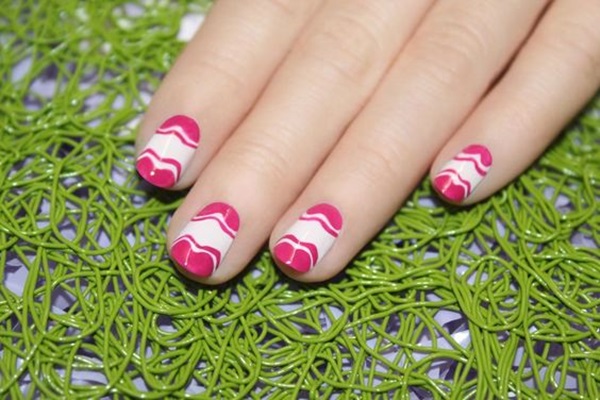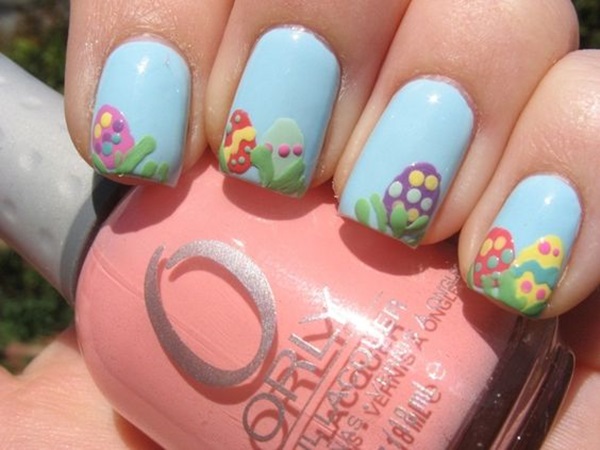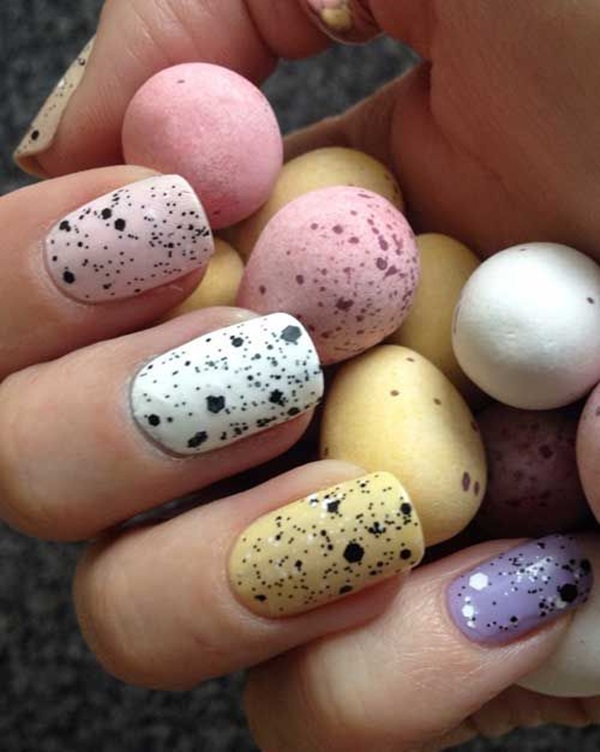 Easter eggs adds perfect amount of joyful spirit to the very special day in your life. Many old women and girls love decorating their nails with Easter eggs designs as a part of their celebration. Colorful Easter eggs placed on each finger of your hand make your Easter celebration more special and delightful. Meanwhile, prayers are most important and natural way to get blessing from god and you can make this Easter more blissful with using these best and religious Easter quotes from the bible. Happy Easter!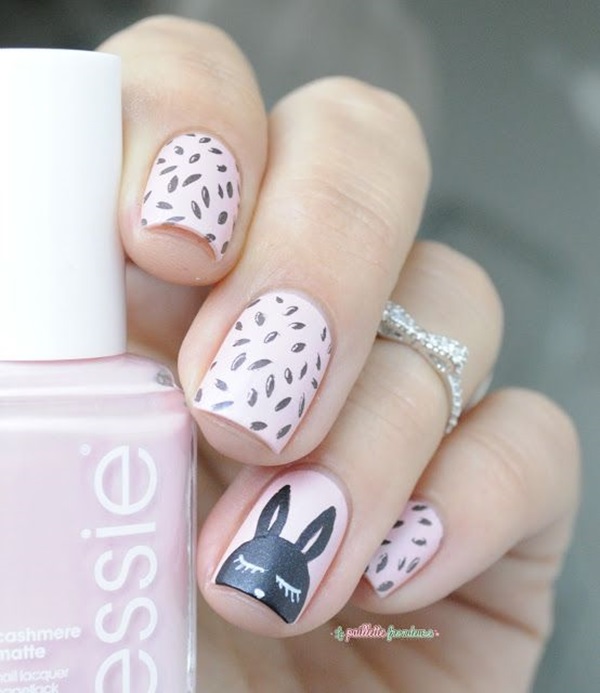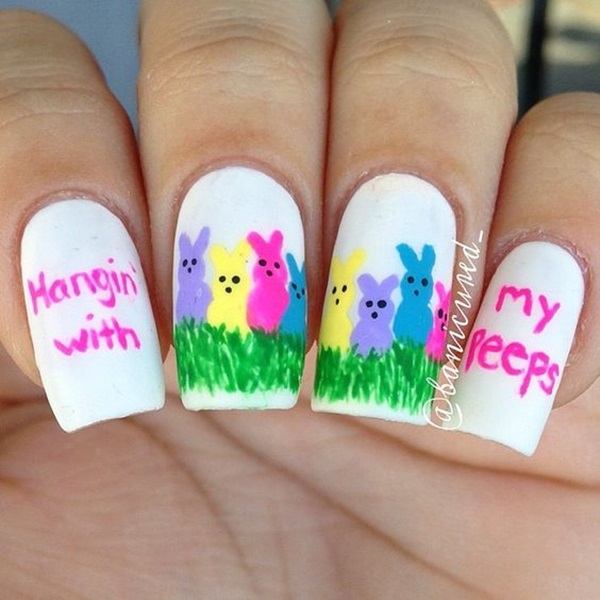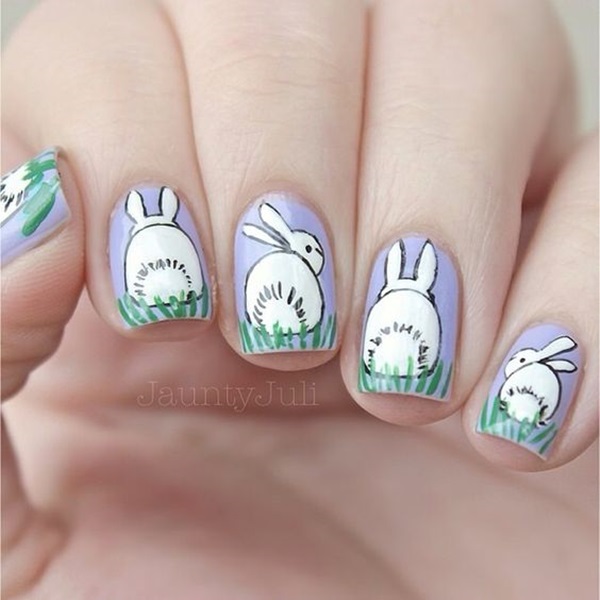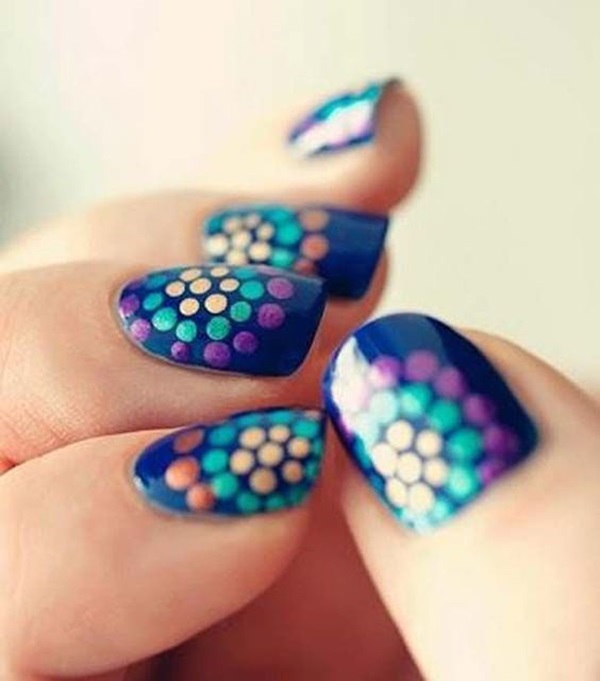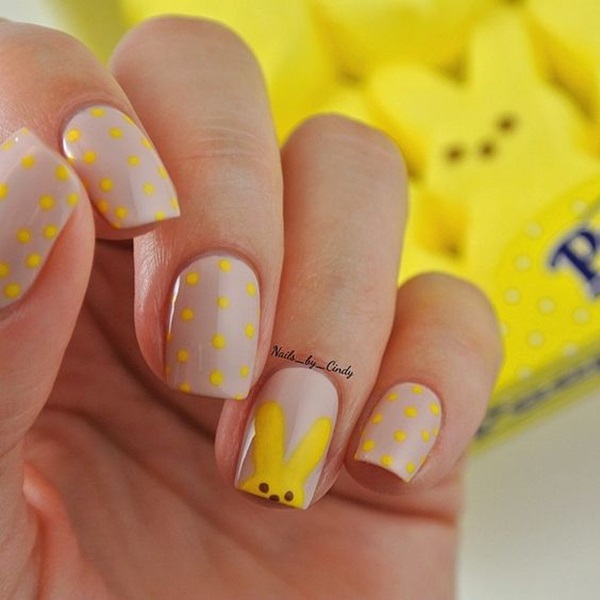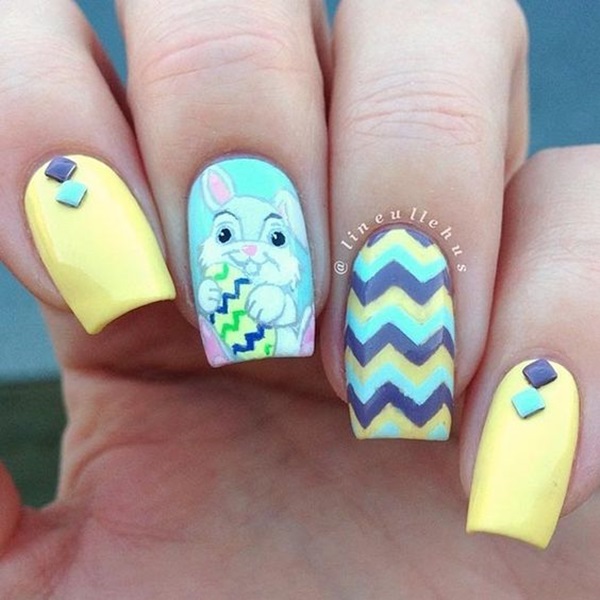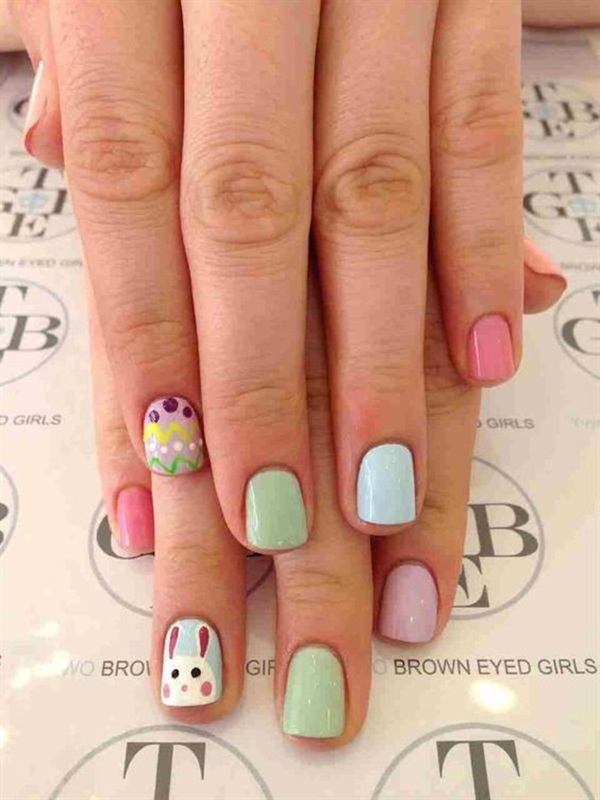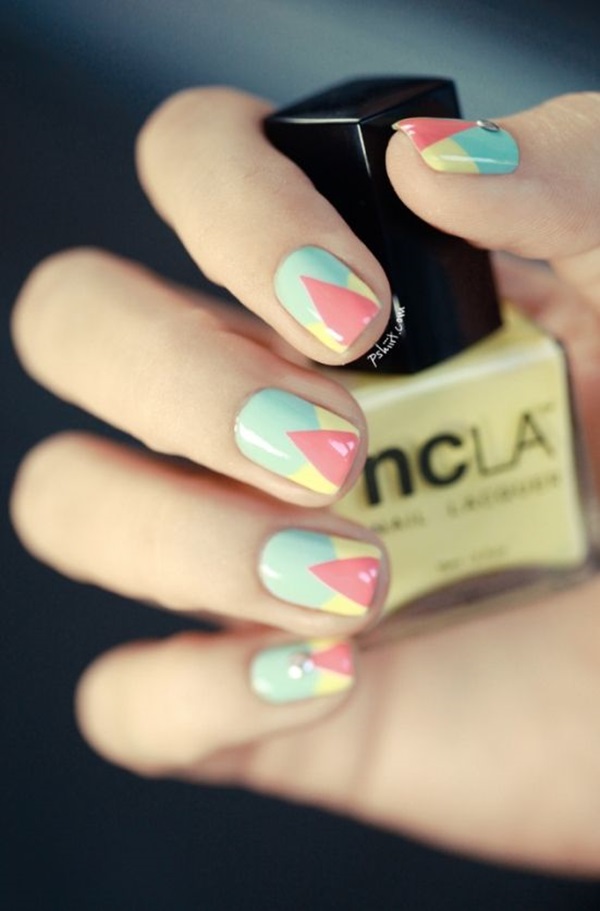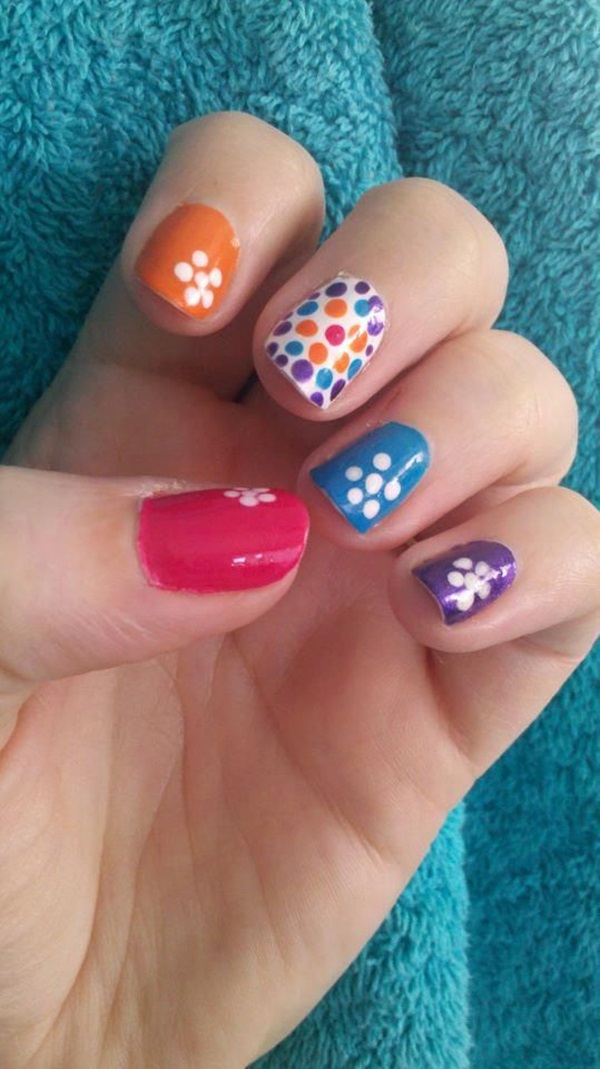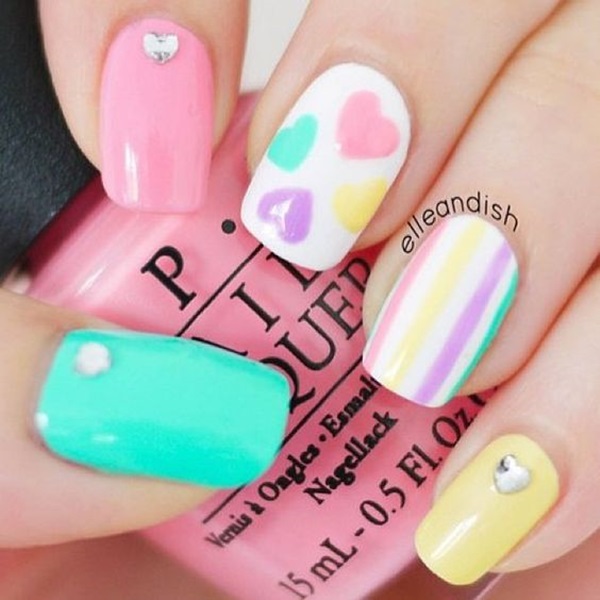 We just hope that above-mentioned Easter nails art designs bring happiness in your life and give some very special memories that stay with you forever.