Girl is the one who makes even the air follow her; leaving the world breathless! These are the oh-so easy hairstyles only for you to astound the crowd around you this evening. These easy Step by Step Hairstyles for Long Hair would have brought back an amazing smile of relief on your face.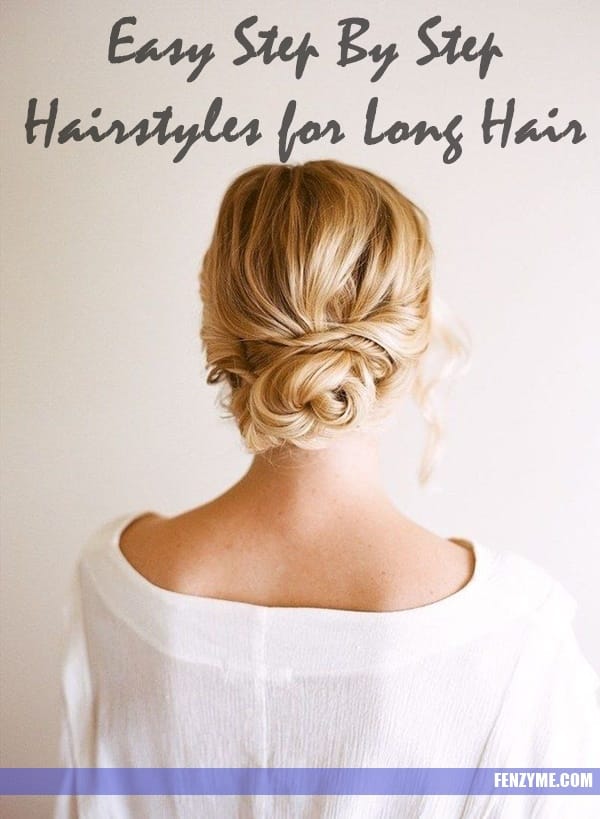 Why to worry when we are here to get your personality shine like stars with these sexy Easy Step by Step Hairstyles for Long Hair? Experiment these amazing hairstyles to know whether it suits you or not.
Easy Step By Step Hairstyles for Long Hair
These fishtail braids would suit any occasion and this is so damn easy. Part your hair into two sections taking one smaller piece of hair from each section crossing each other. Continue taking pieces of hair from either side of your head thereby putting on sexy fishtail braids.

Oops! You seem to be worrying about what hairstyle to wear with your sexy gown this evening. How about this sexy high bun? All you need to do is to put a high pony tail and section a piece of hair as to make a fishtail braid. Twist the rest of the pony around it along with the fishtail over it. Here it is!

Tired of those common ponytails and braids? Why not mix these to two to get a sophisticated unique hairstyle for office! Section out your head into three as shown. Make a lower pony with the third larger part at the back of your head. Make two fishtail braids with those two sections in the front. Loosen your pony and roll it to make a bun thereby pinning the two fishtails over it.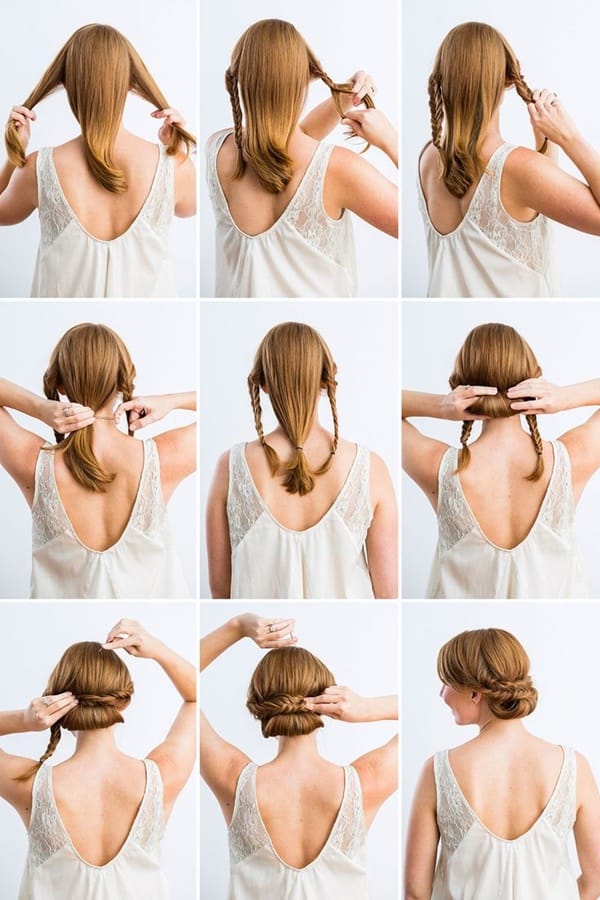 Roll on roll! Rolling bun is yet another easy thing to go for. The charm this hairstyle brings on to a girls face is simply incomparable. Put on a ponytail and twist small parts of hair around it and you are done. Wear this simple but cute hairstyle with casual outfits and a pair of heeled footwear to complete the elegance.

Section the hair into two from the front and start braiding it normally. Go on adding up strands of hair to the braid as to make this waterfall hairstyle. Try out this hairstyle with short one piece to look like a princess. Don't be afraid to get some elegant accessories including neck pieces along with a sexy makeup.

Loved this waterfall Easy Step by Step Hairstyles for Long Hair? Then you will surely love this waterfall braided tail as well. Section the hair into two asymmetrical parts as shown and start braiding the temple hair from the right. Pull the hair from other side to the right and continue braiding the hair. And here you are absolutely ready for today.

Divide your head into three, namely left, right and middle portions. Firstly, weave a simple braid using the hair from the central part of head. Then make a simple French braid with left and right temple hair as well. Using these braids, make a single thicker authentic braid to suit your intelligent professional look.

The bow hairstyle is here to cherish your love for bows since the time undefined. Why not make a sexy bow out of hair itself? See, it is so damn easy and it won't even take much time. All you have to do is to pull hair from left and right temple portions of your head and put a rubber band just as shown. Put a knot in the middle of the bow that you just made.

This hairstyle is basically for those who love keeping asymmetrical bangs since it adds up to the incomparable look. Divide your hair centrally and pin them up. Further, section the head vertically into two and simply make a French braid from each part. Make a bun by winding them all over the head as shown. Put on winged eyeliner to make your face a bit more expressive.
Just four steps and you get a twisted top knot in less than five minutes. Make a pony, part it into two, twist and pin! That's it. Try it out with crop top accompanied with sexy denim jacket and mini skirt and cowboy boots. Well, this is not the only outfit to try this hairstyle out; try it out with any outfit.

Simply make a French braid and roll it vertically upwards and pin. Here you go! So… simple, isn't it? You may love to have this hairstyle done while you are at work. It will keep your hair away from you helping you to concentrate on work.

For those who also love the adopt seasonal hairstyles too, should also check the fresh lot of summer hairstyles to enjoy the season more amazingly.
The cone hairstyle is indeed another unique but easy hairstyle for you. Simple start rolling your hair from the tip and go on rolling until it reaches the roots. Pin it and your final move of hairstyling is complete.

Twisted bun is yet another sexy Easy Step by Step Hairstyles for Long Hair. Section your hair centrally and twist it. Keep on adding hair and twisting it to make a bun. Professional outfit suits best with this hairstyle along with a light make up. How about making this hairstyle a fun by making a braid and then twisting it to get a classy bun!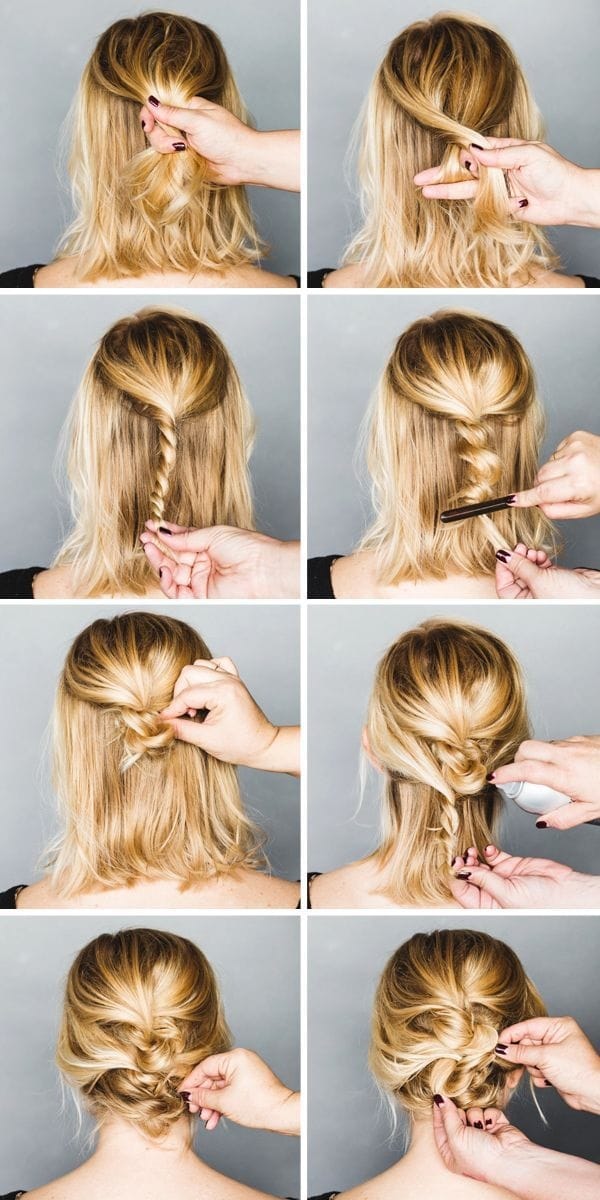 Pull hair from the center and twist and pin to the left. Pull hair from the left and twist and pin to the right. Pull hair from the right and twist and pin to the left. Go on doing this until you reach your shoulder. You may put a bow with hair or else get an elastic band to avoid loosening of hair.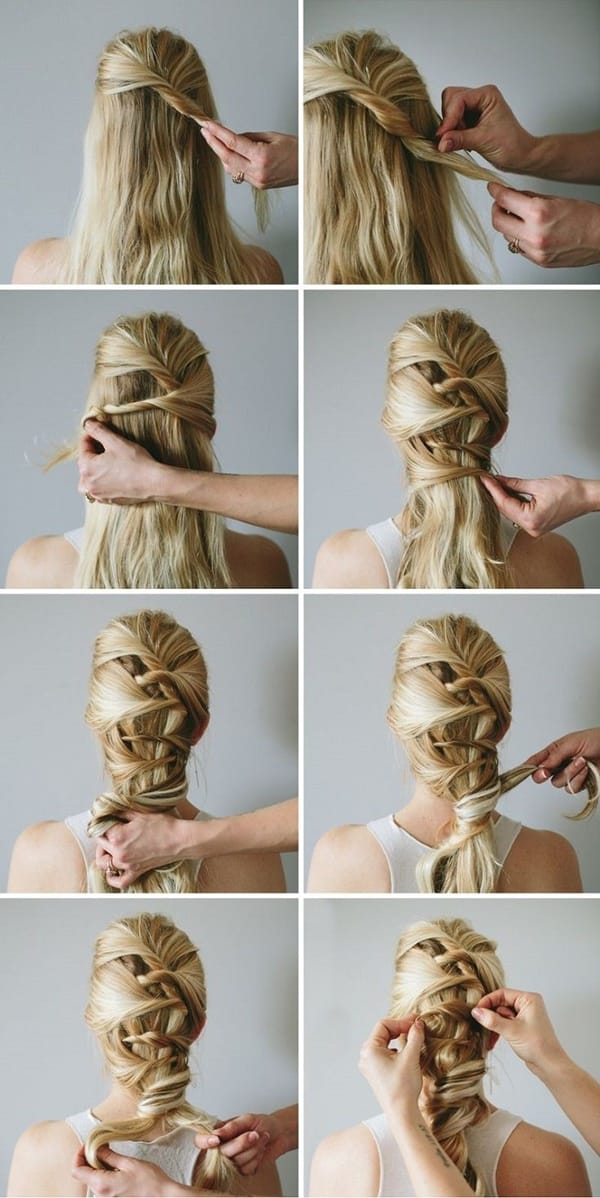 Part hair into two asymmetrically and start braiding hair normally from the larger side of head. Pull hair from the other side of head and continue braiding. As soon as you complete braiding roll the hair upwards and your side braid is ready.

It is the time for men to lose the challenge which says no women on earth could get ready in lesser time. Yeah girls, shock your man with your amazing hair dressing exotically. The time and fashion and beauty is gonna be yours! And for more variation, you should also check another list of simple DIY hairstyles to grab more attention.