Stiletto nails are a new nail trend in the fashion world and meant for women who want to stand out of the crowd. As the trend is increasing rapidly, women who are crazy for latest nail art designs on regular intervals are planning to try easy stiletto nails designs and ideas for instant change in their appearance.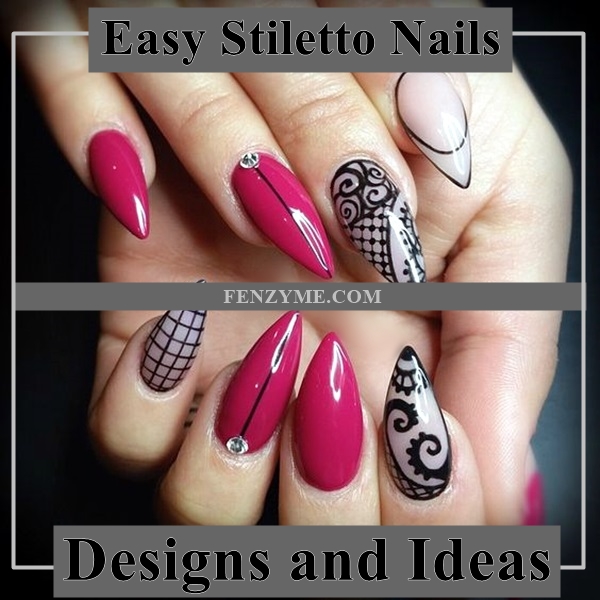 Now, let's understand what are stiletto nails? Stiletto nails are bold and sharp in look. They are oval in shape and pointed or rounded from the tip of the nails. They are usually long in size and give a cool look to girls and young ladies. But, make sure that you take proper care of your stiletto nails as they may lead to small injuries, if too long. These types of nails often look like as 'cat claws' with spikes. Here are different nail polish designs and ideas will give you spectacular results and will create long lasting impact on other people's mind.
Easy Stiletto Nails Designs and Ideas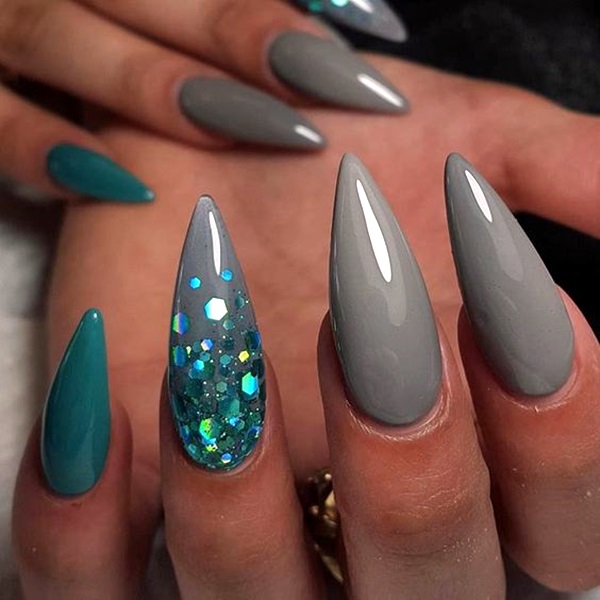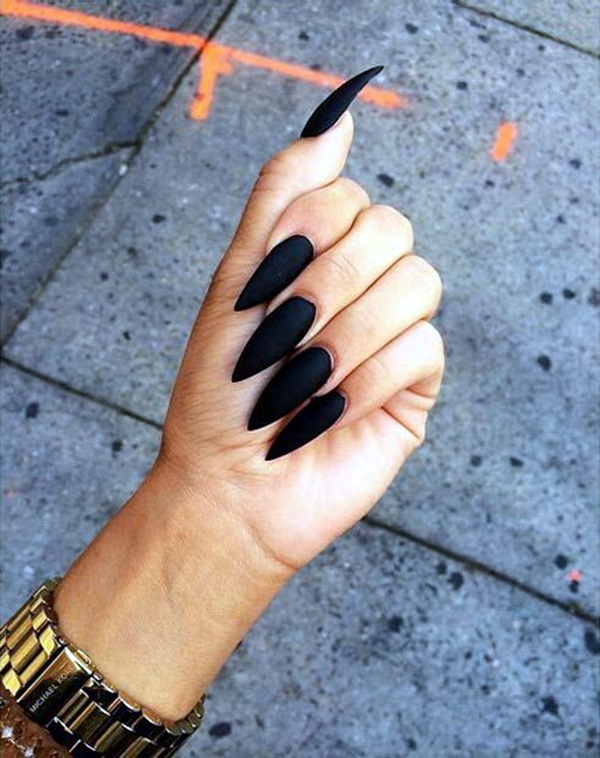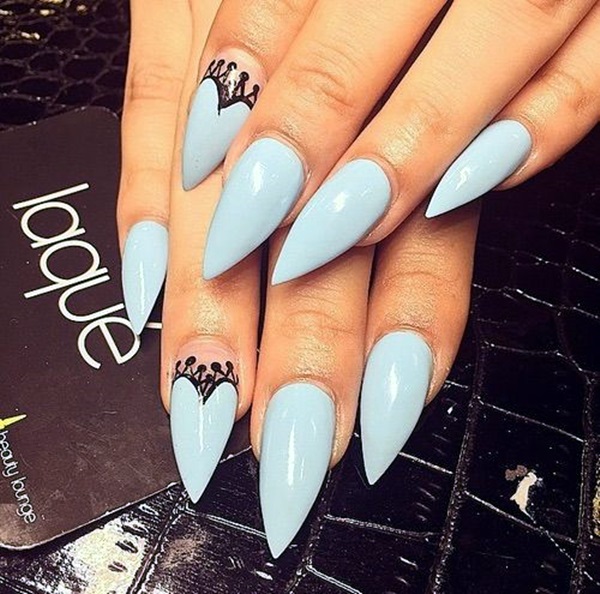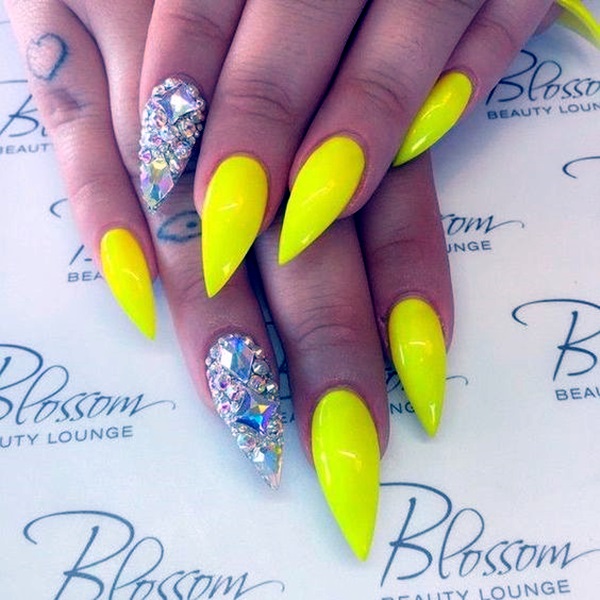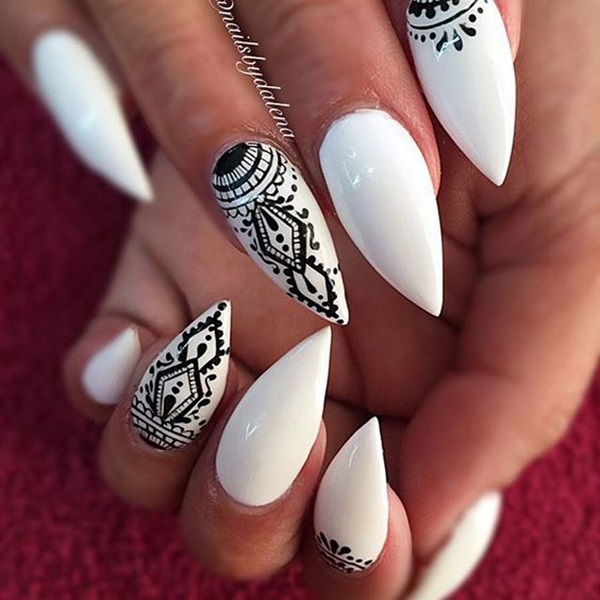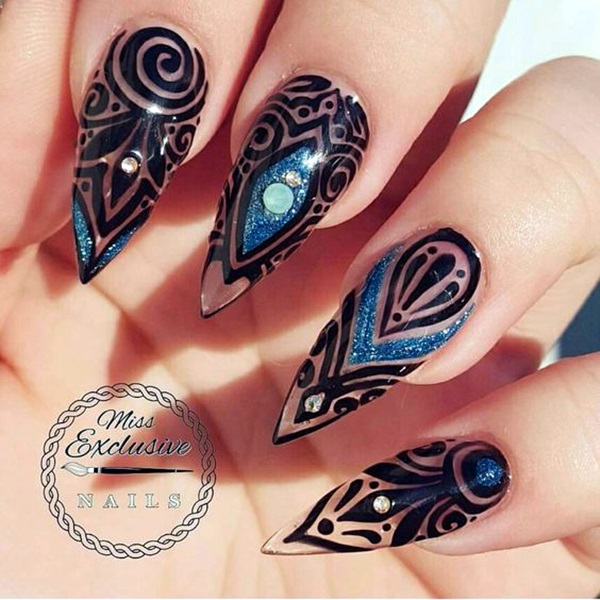 Check out some of the easy stiletto nails ideas that you may like to try for some special occasion –
Black Hearts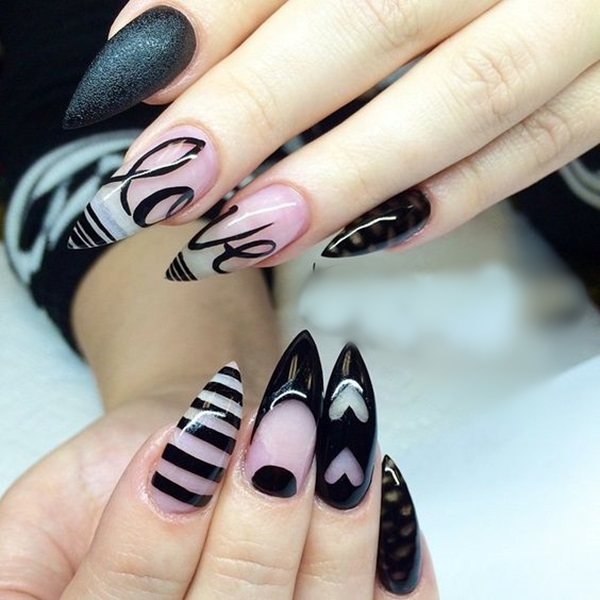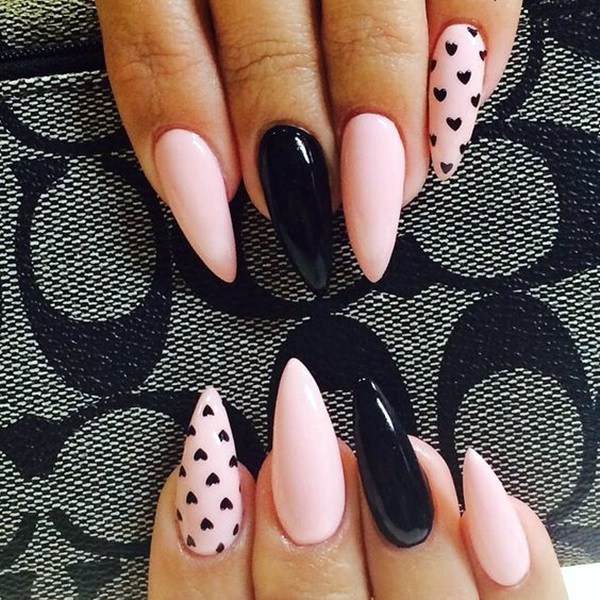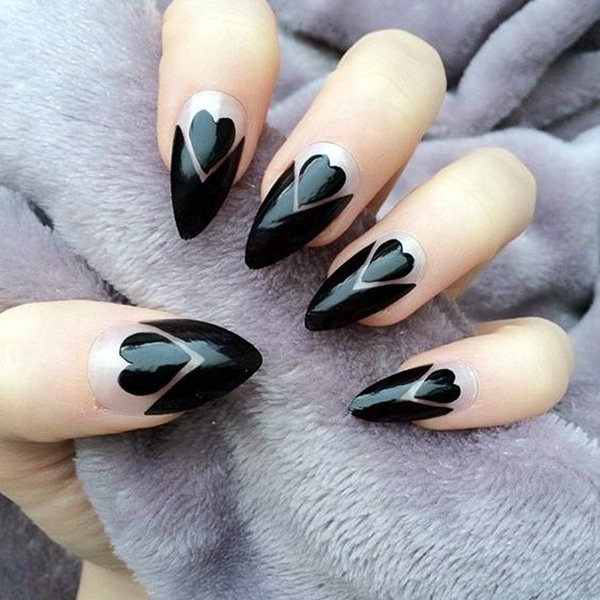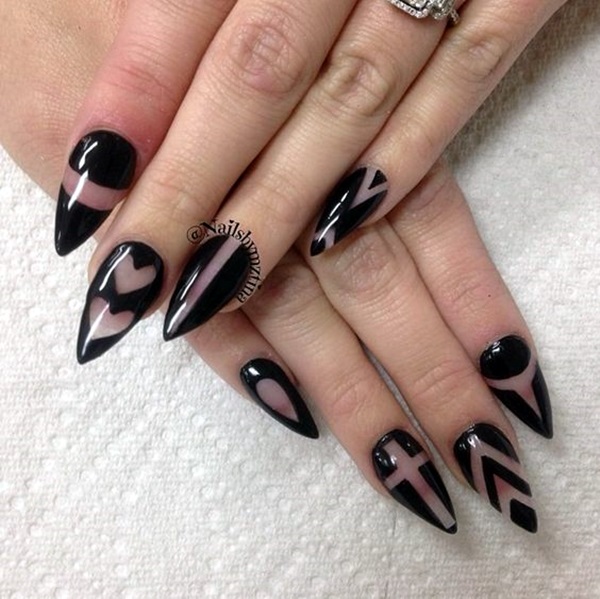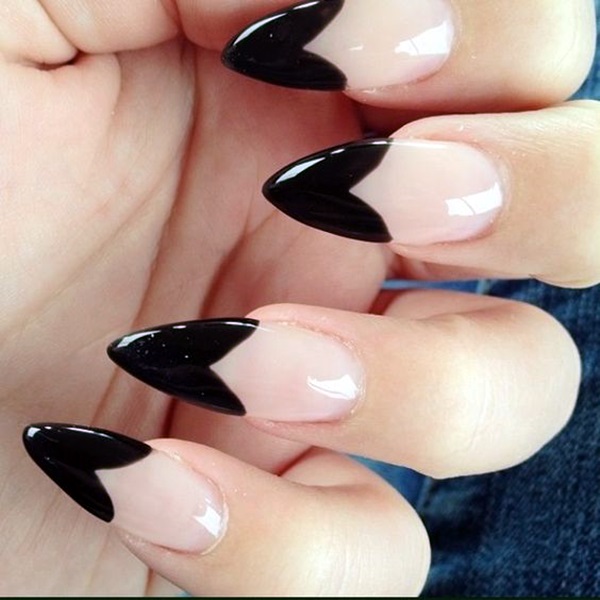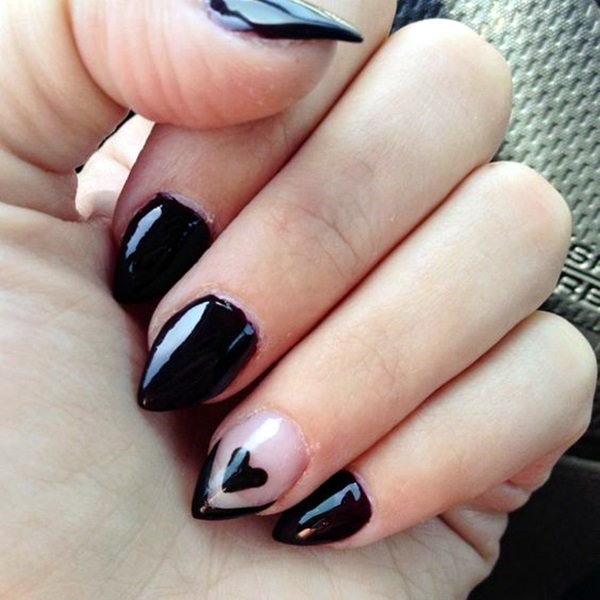 You can show your creativity to large extent, as bigger space is available to get this nail design on your fingers. The black heart nail design is on top among all other easy stiletto nails designs and ideas and goes well with every outfit.
You just have to paint the base with white or silver nail paint and create simple black hearts in an interesting way.
You can have different heart design on each nail, but make sure they match it some or the other way.
Half-Moon Stiletto Nails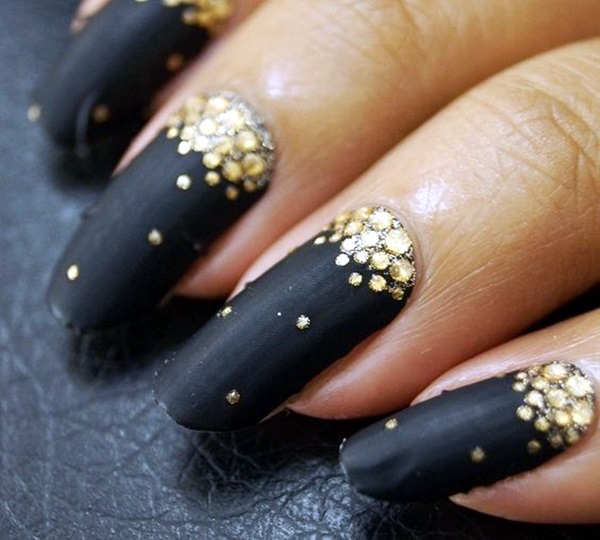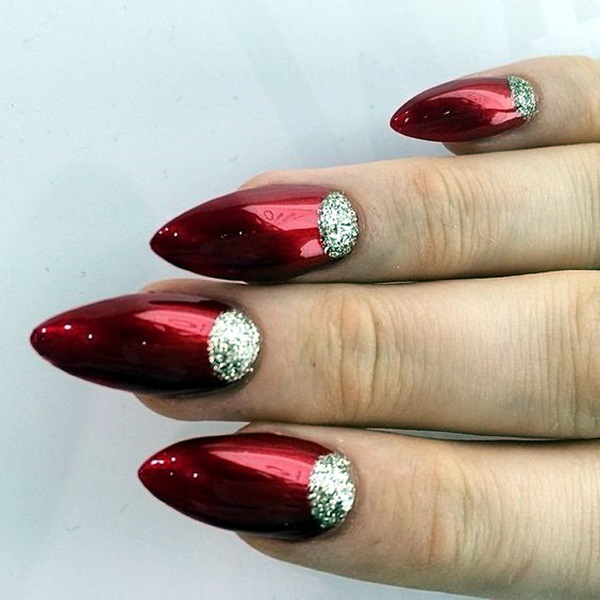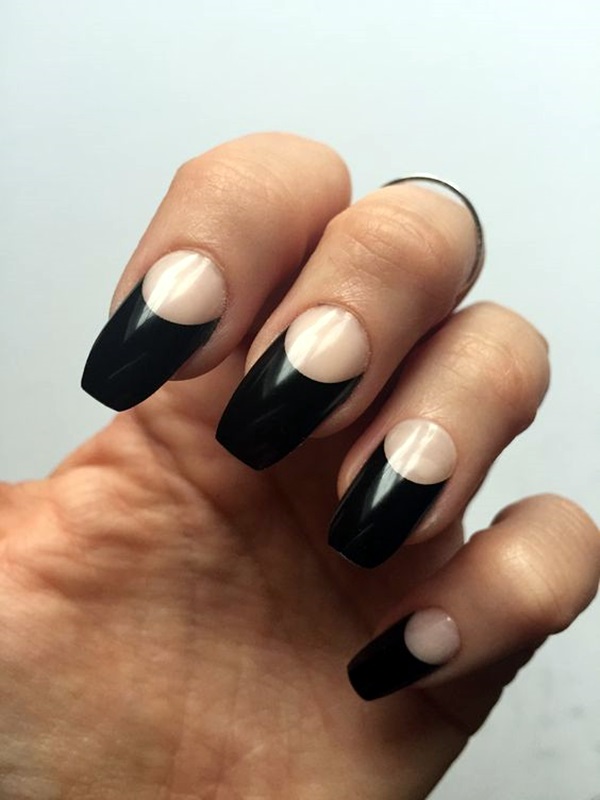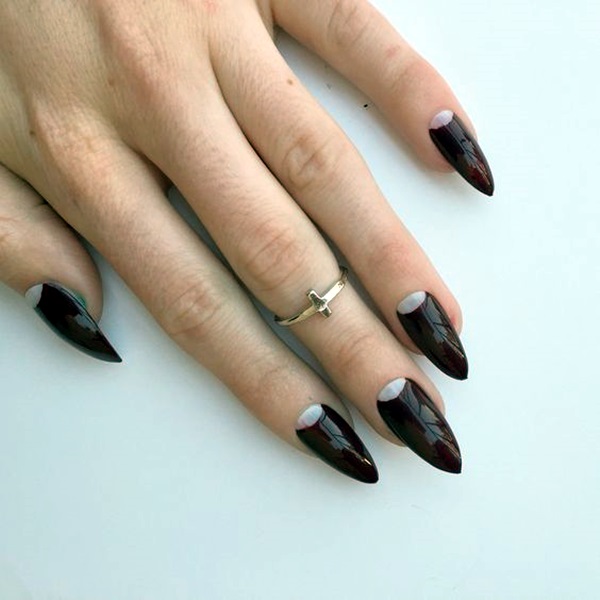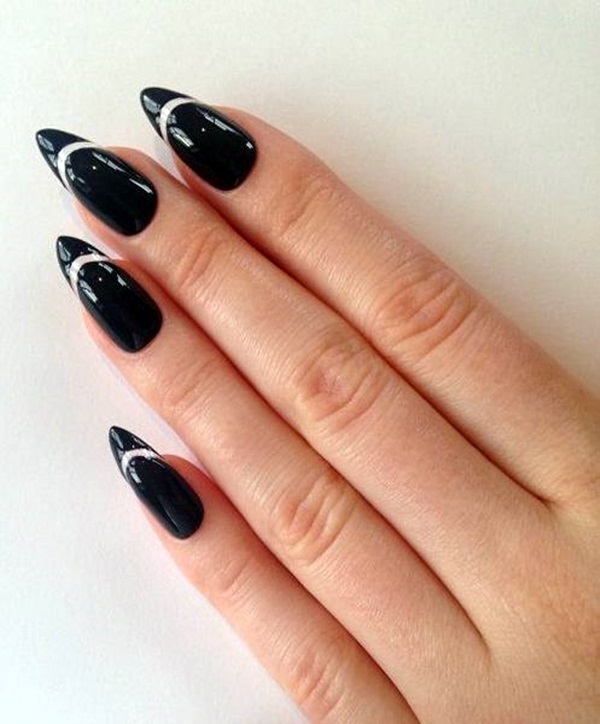 If you are bored with your current nail shape and design. Looking for something new and interesting. The half moon nail design may inspire you and when you wear this design for occasions like – marriage, birthday party others may be jealous or love to copy the same nail design. The combination of nude with golden at the bottom part looks extremely gorgeous and you can easily match it with any outfit. Due to preference and popularity of these shapes, it can be inferred that Pointy Almond Nail designs are here to stay for long. They are so good-looking that can actually mesmerize anybody.
Yellow Tip with Abstract Design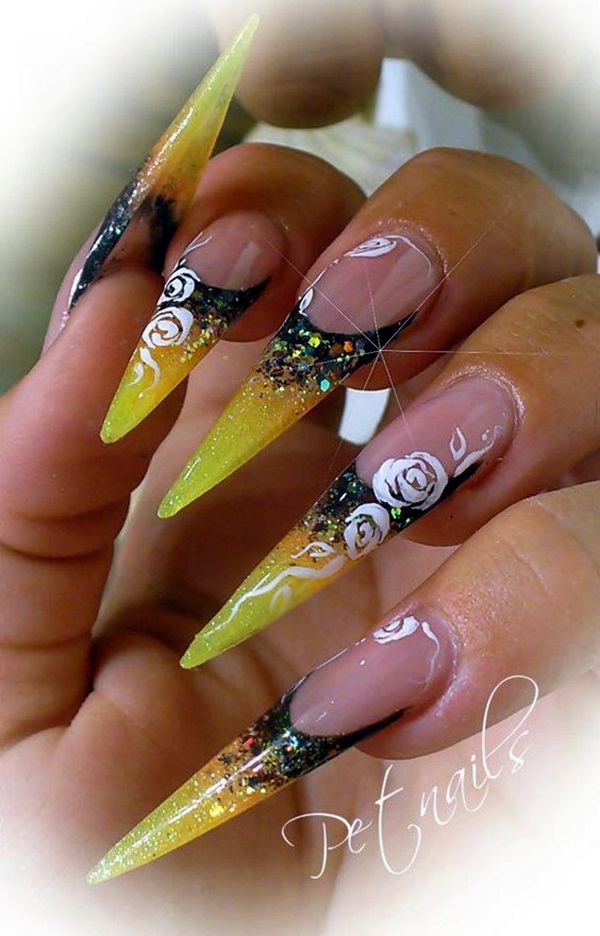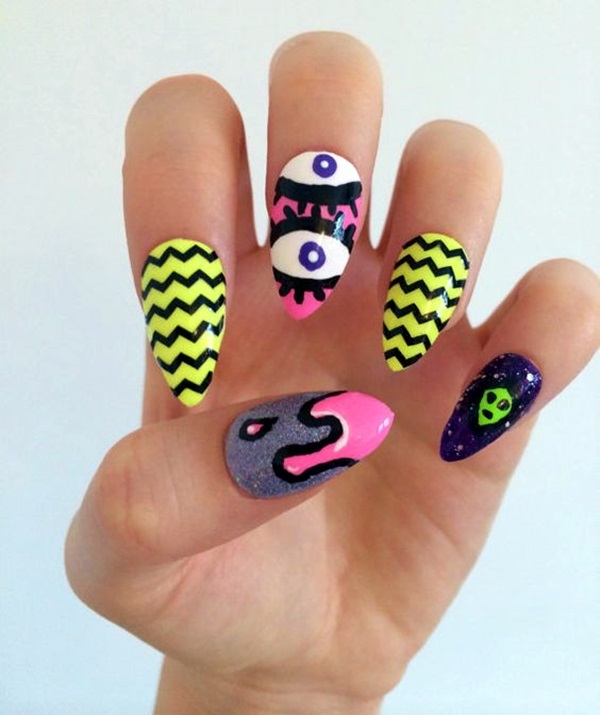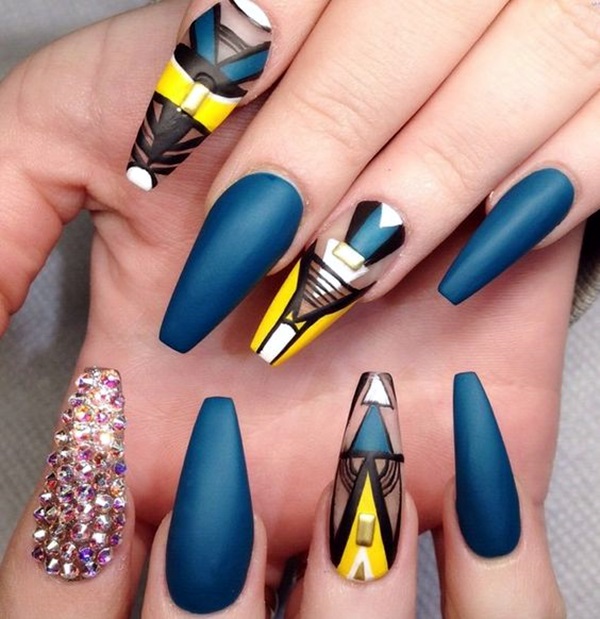 This nail design is perfect for warmer weather. You can't go wrong with this look for parties near beach or late night bon-fire parties with friends. Abstract designs are great because they don't restrict to any particular theme, they look extremely cool with any outfit.
Floral designs with bright yellow tips are very popular and give feminine touch to your complete outlook.
Simple Black and White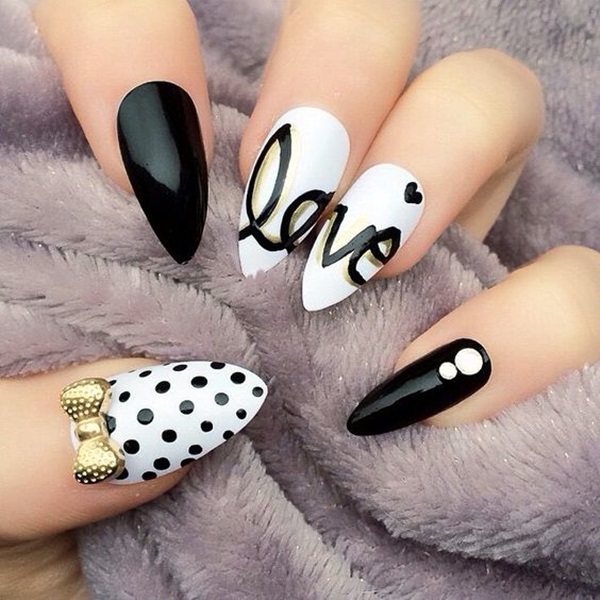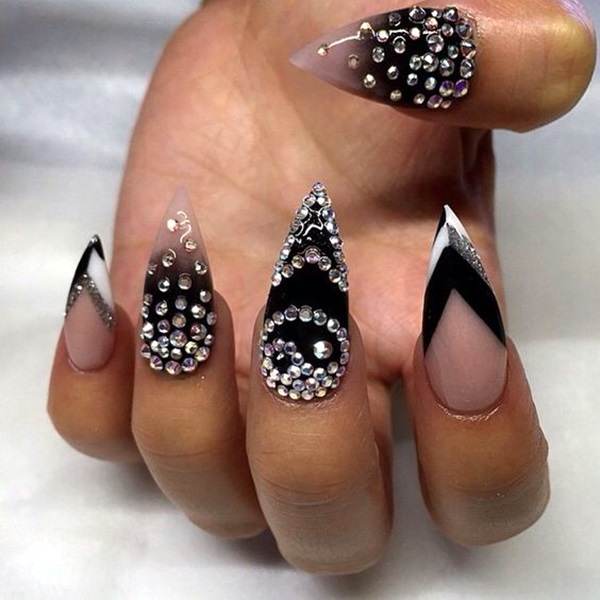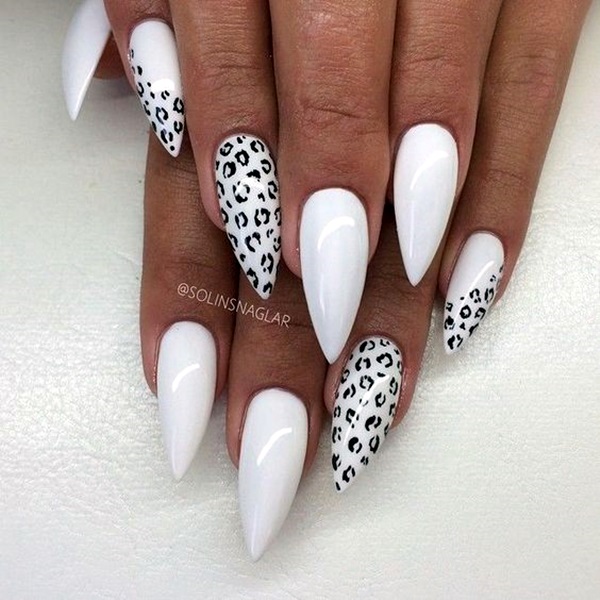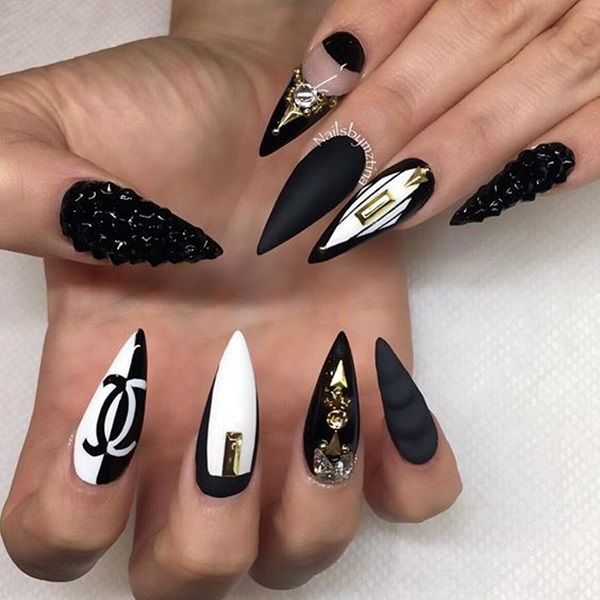 The combination of black and white is something that looks good on everything. Trying black and white combo on your nails will elevate your look and prove to be easy stiletto nails designs and ideas of 2016. You can try different design on each nail using black and white nail paint and add silver glitter and rhinestones to make them pop out. The simple black and white nail design becomes a showstopper wherever you go.  Gone are those days of boring nail paints, now sparkle nails design are shinning like stars everywhere and spreading their magic.
Black Design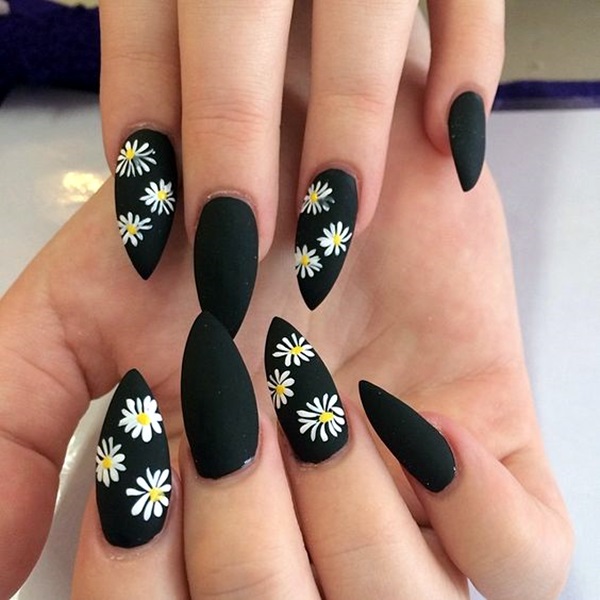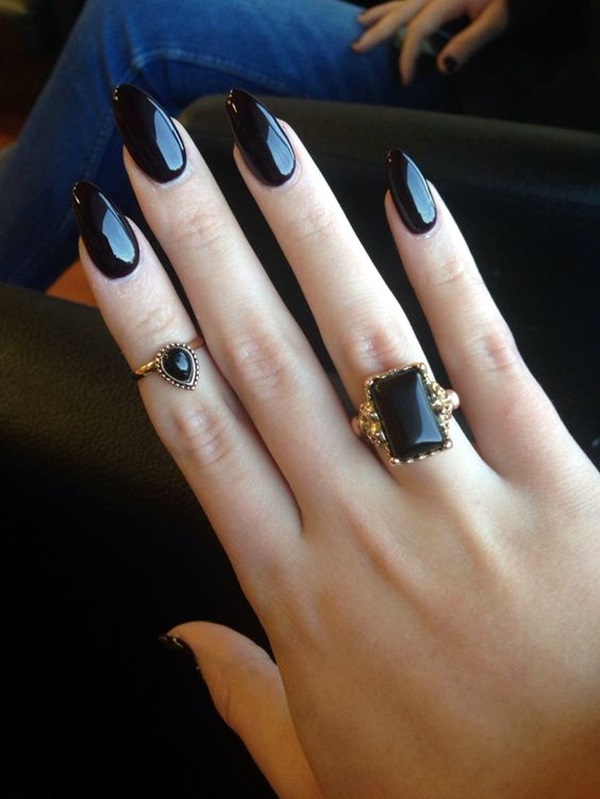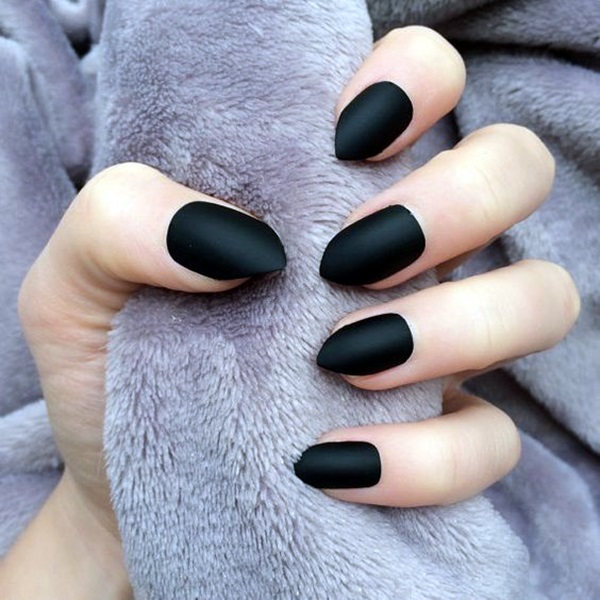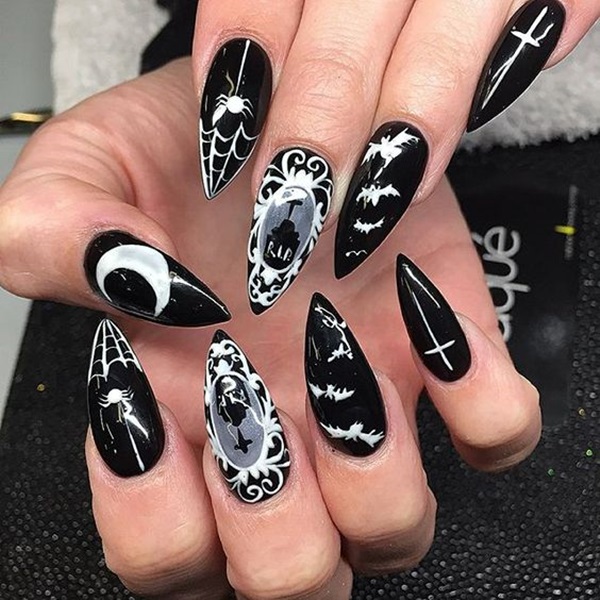 It's impossible to believe that others won't notice this fabulous stiletto nail design when you go for some party. The design is perfect for themed parties like – Halloween or costume parties when you want to dress up as a cat woman. Keep the base grey or white and draw cat face with the help of nail art tools to achieve this unique yet easy look.
Gold and Black Design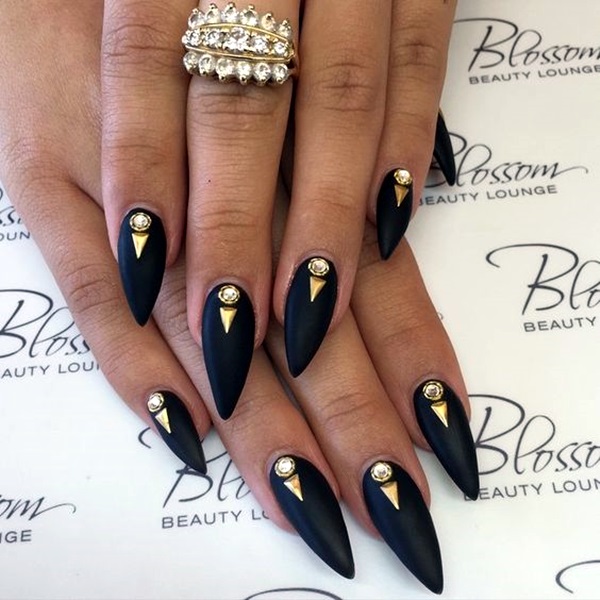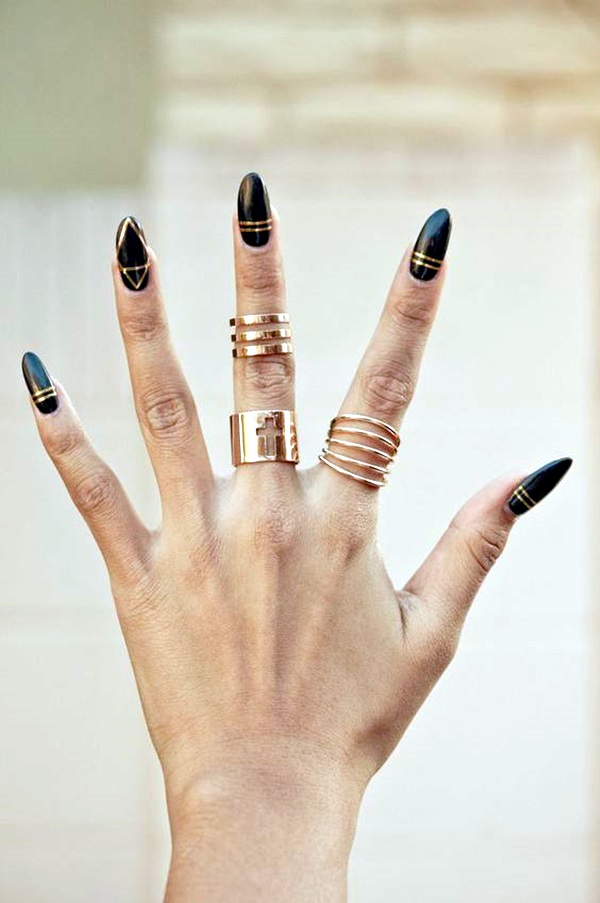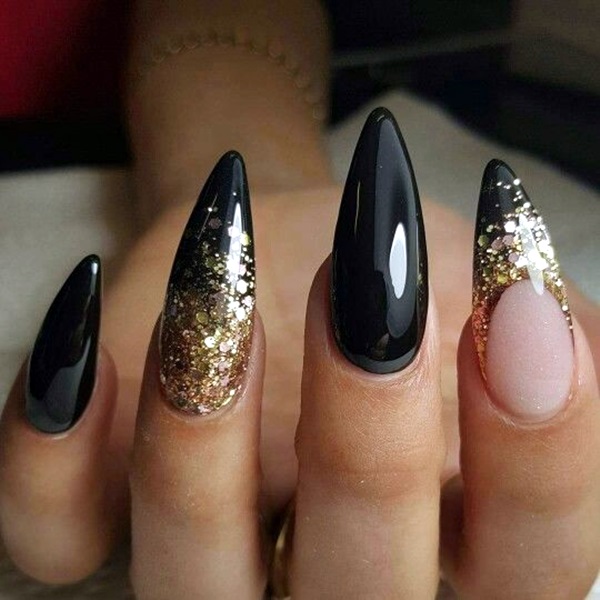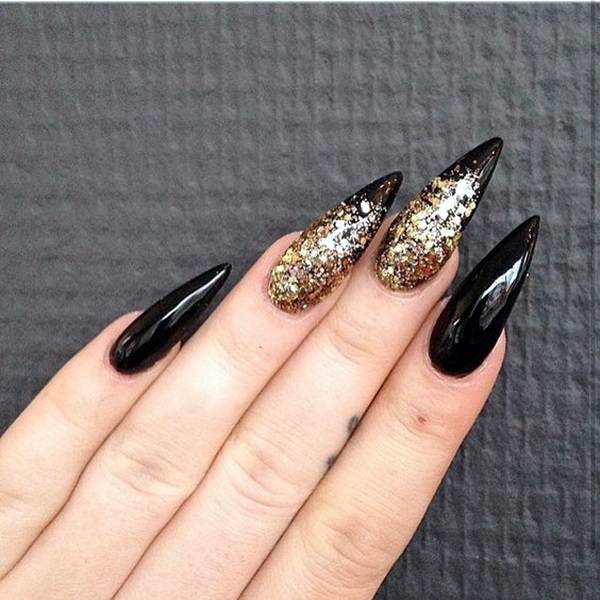 If you are wearing a leopard outfit for a themed party and plan to match your nails with the print of the outfit, then gold and white design will effectively grab everyone's attention towards your look. To resemble leopard outfit, it's necessary to paint the base with yellow nail polish and draw black prints on top of it for wild effect.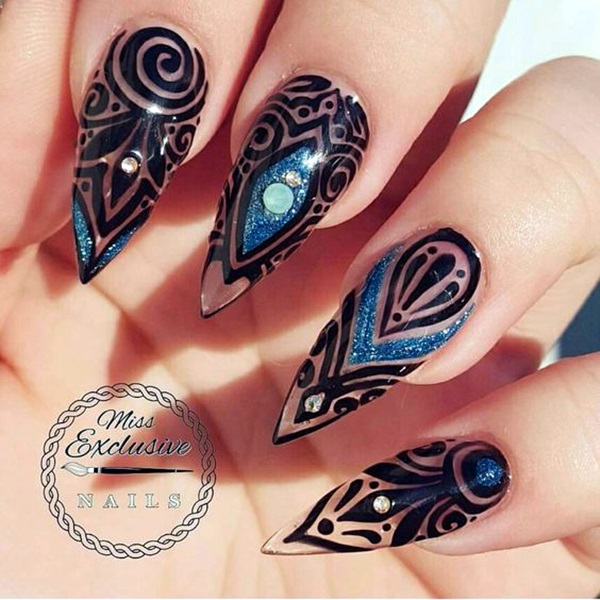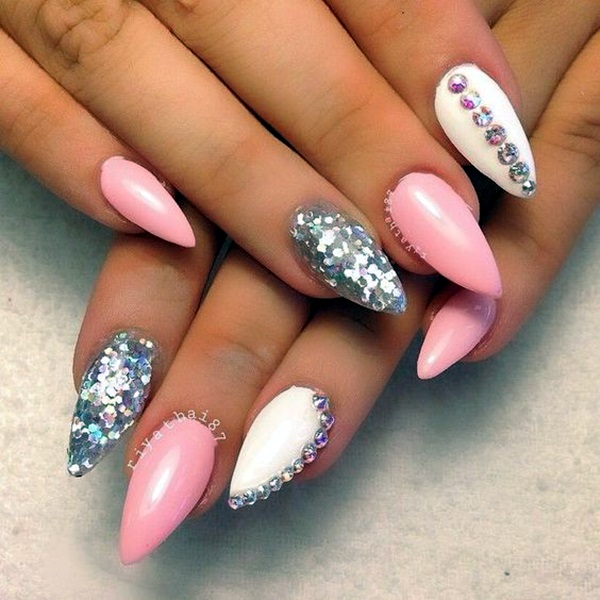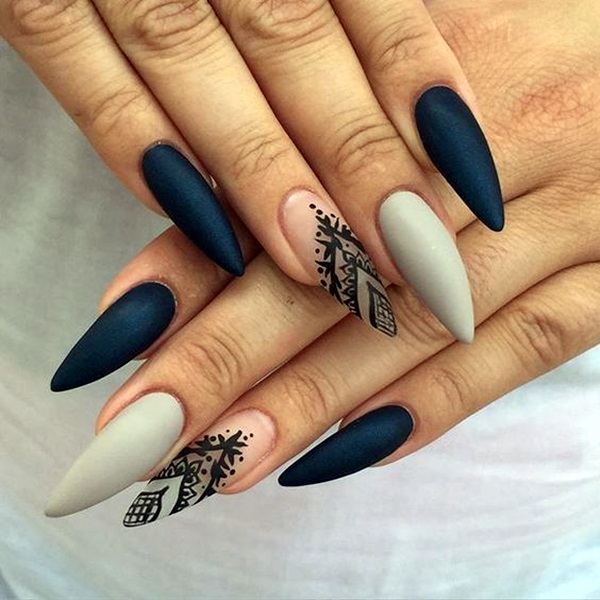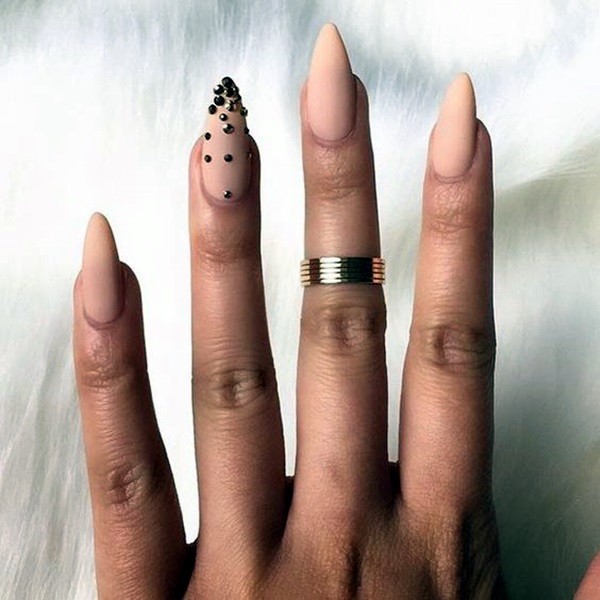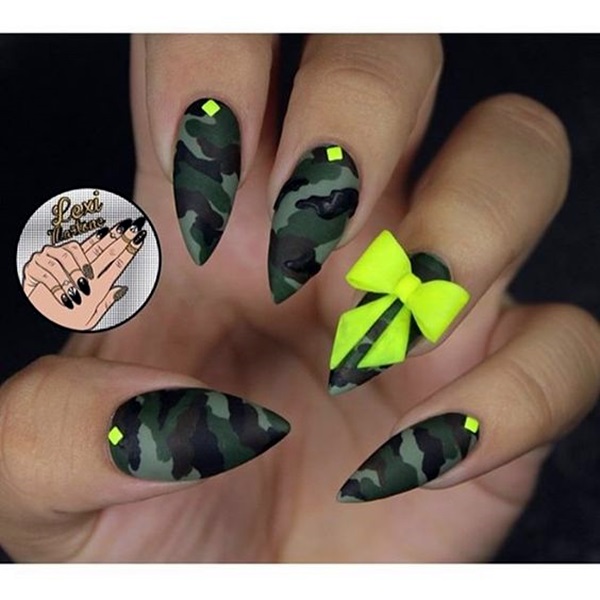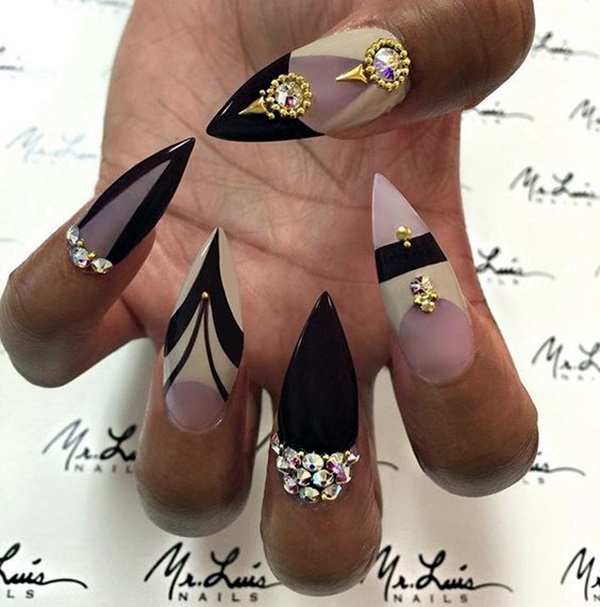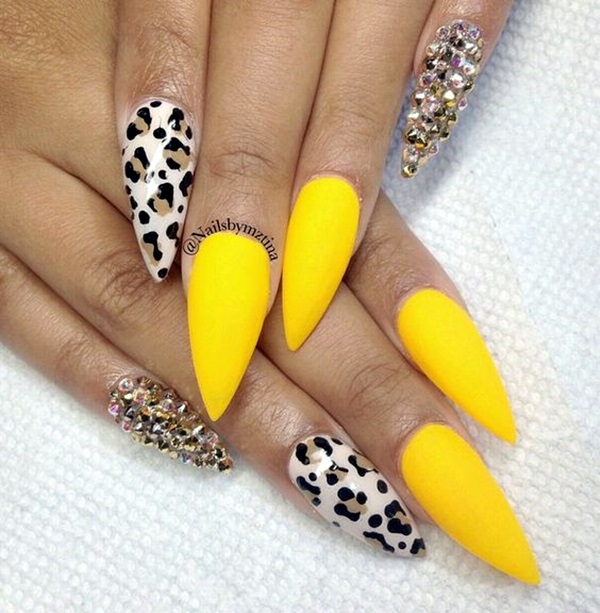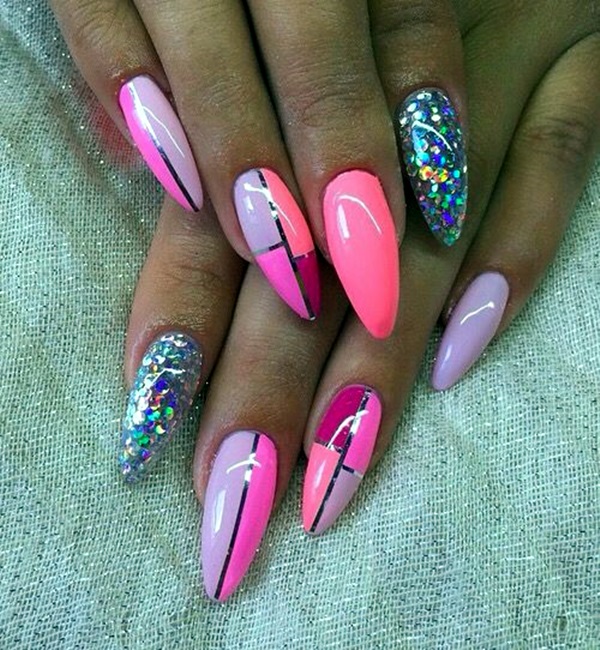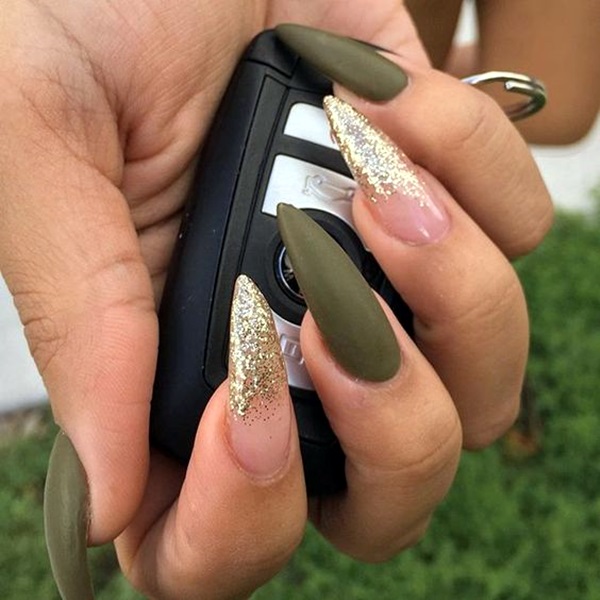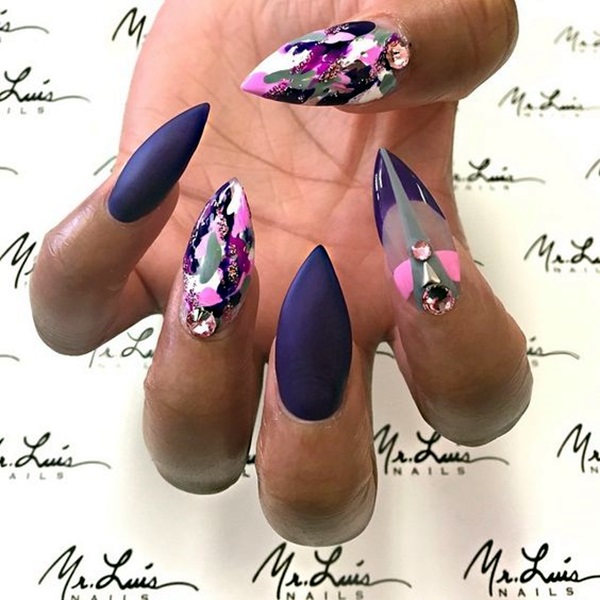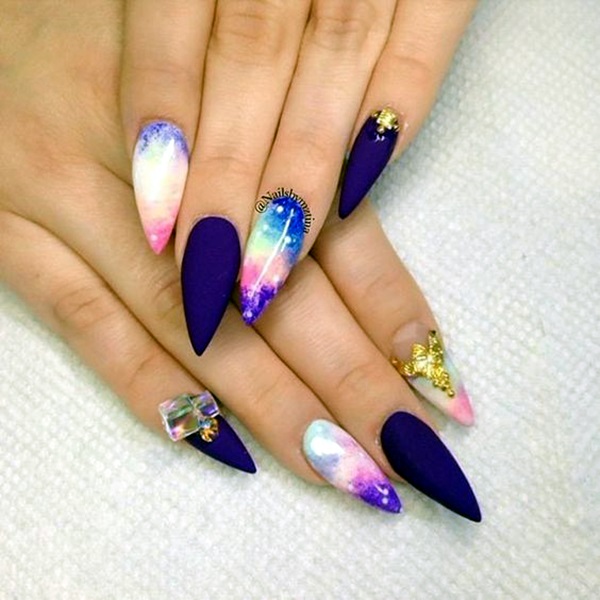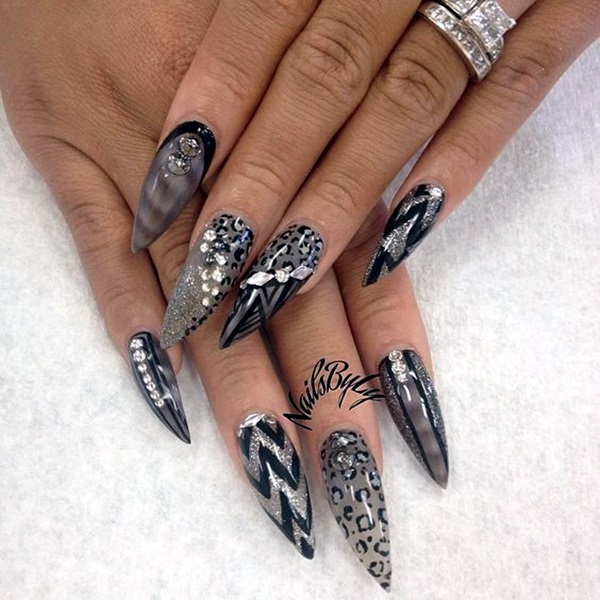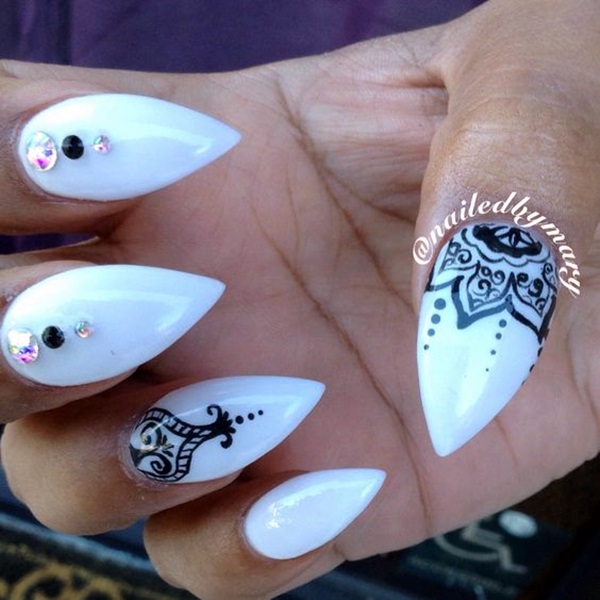 We just hope at the end, that above mentioned easy stiletto nails designs and ideas must have entertained you and you can't resist yourself without trying them once.