If you are planning to go to a goth party, you should update your closet with something modern and mysterious, which is the main theme of a goth party.
You will want to achieve a look that says you belong to them. The party is not only about the theme but also reflects how much you belong to the culture. When we hear about a goth theme or party, we automatically think of something black. But just wearing black may not be enough to complete your gothic look. You may have to enhance the look with something that reveals your individual fashion sense.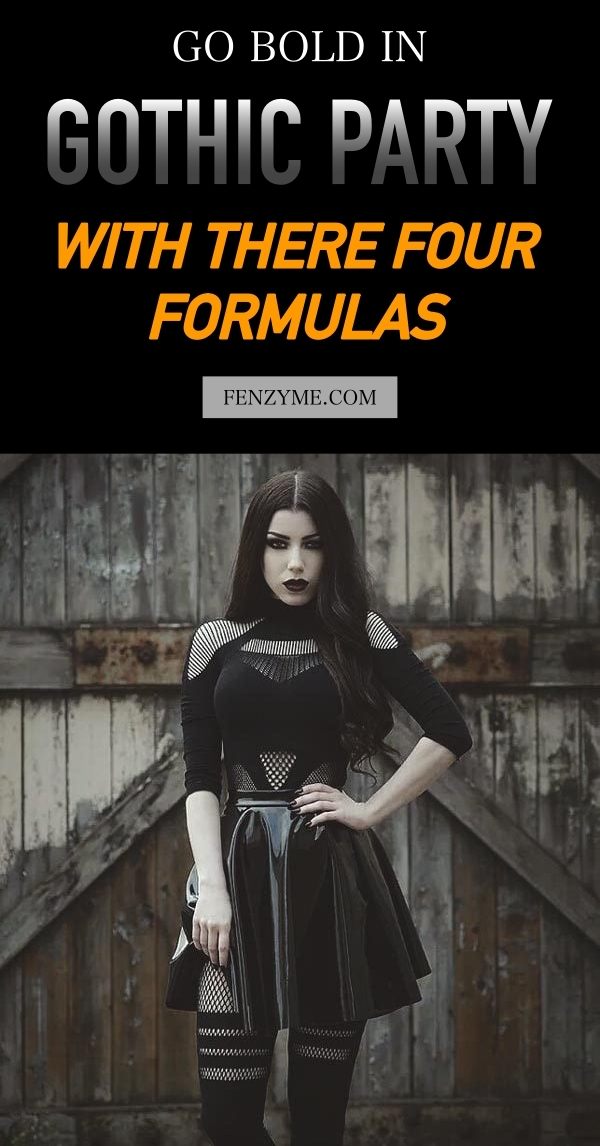 One of the interesting things about goth fans is that they tend to be quiet introverts. So your fashion statement should be expressive yet modern. The ideal of a goth party is not just black clothing; you need to make it look yours with some accessories which reflect your personality and passion.
Maybe you have all the qualities of a true goth fan, but you are going to join a gothic-themed party for the first time. Nervous? Don't worry. We are here to assist you with some tips which will help you to nail your dark, mysterious gothic look.
1. Be Bold with Black
You probably already have some black clothing if you're planning to go to a goth party. Some interesting options include a corset with a metal zipper which you can pair with black stretchy pants, leggings, or a thong. A short petticoat, short lace skirt, or a little red or pink bow will contrast nicely with the dark look. You can demonstrate the depth of your soul in a slightly cute yet mysterious way with a schoolgirl look. Spice up the look with a Chinese collar or classic collared top and a short striped black skirt.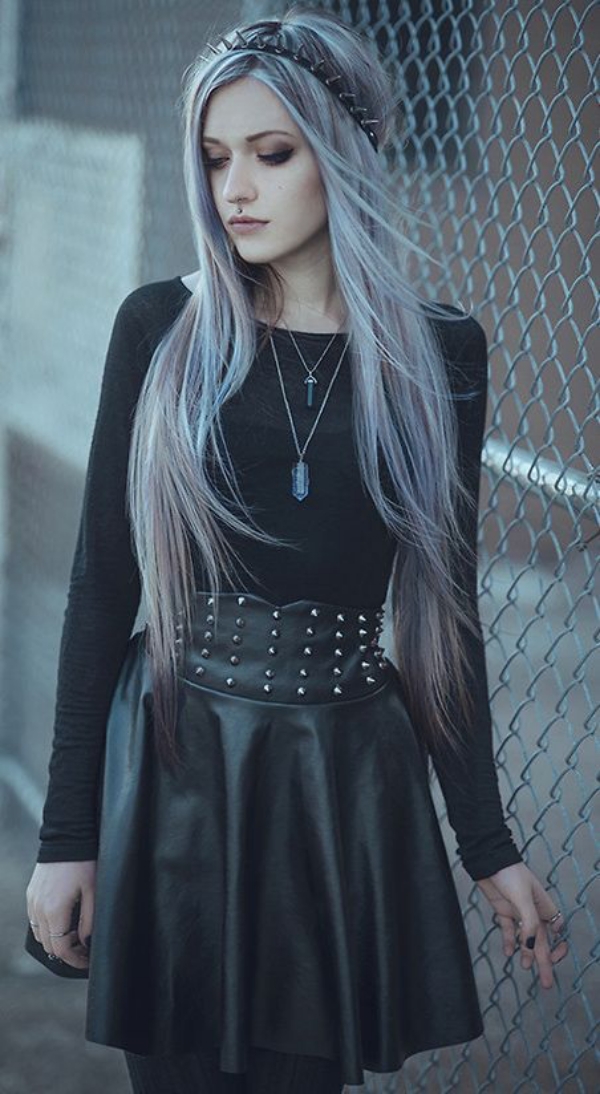 A black dress with a collar neck reflects that you are passionate about everything you do in your life.
If you are still not happy with your closet, you can refashion the look with a jacket. Jackets are always appropriate for a classic gothic look. From the beginning, both men and women have complemented their gothic style with different types of jackets. A black leather jacket is always enough to recast the gothic look for a gothic date night or a goth-themed party. As it is difficult to customize a jacket yourself, you can buy different types of jackets from any online shop that specializes in making gothic clothes.
2. Experiment with Your Accessories
When it comes to accessories, the gothic style is filled with lots of options. You can use cross-shaped or bat-shaped earrings. A black snake-shaped chained earring will look great with any goth wear. A black choker with metal spikes, a cross, snake, blade, or lock will add some more grunge to the attire. If you have an eyebrow, lip, nose, or tongue piercing, add little goth pieces there.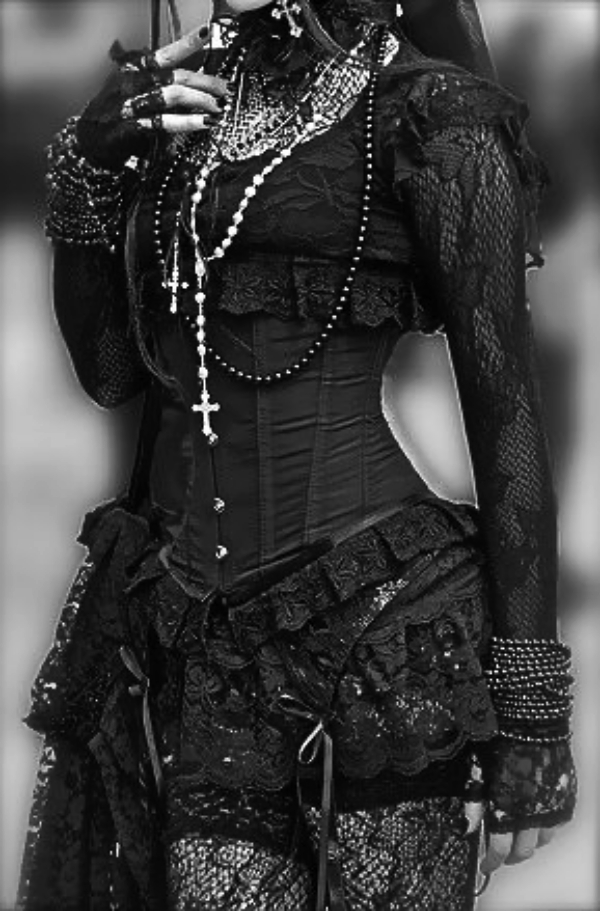 Do not forget to put on some long-chained metal rings with tiny crosses or spikes to give your hands a devilish gothic look. If you like to wear headbands, you can get skull-themed or metal spiked head accessories. Big clips specially designed for gothic looks are also available. Clips or headbands with horns can also add a satanic touch to the look.
Hats are also considered classic gothic accessories. A hat with spikes, dead roses, horns, or a bird's skull will always bring out the vintage vibe of your outfit. If you want to tie up your hair, you can perk up the look with a high bun and secure it with a hairpin with a demon face, the skull of a crow, or a demonic sword. You always can carry a black lace umbrella to highlight the witch vibe in your look.
Do not forget to wear black or red boots with a demonic face on them. Leather boots with multiple belts, black velvet boots, high-heeled shoes with ribbons, shoes with skates, ankle boots, gothic punk lolita shoes, wedge heels, rubber mid-heel, or strap shoes always work, especially paired with gothic socks. Do not go for black socks; you should wear red or deep pink. Long net socks with polka dots or stripes will also spice up the look.
The gothic look is never complete without a goth-themed bag. Some of the options are a witchcraft bag, chain straps, voodoo doll goth purse, angle handbag with demonic drawings, customized different shaped handbags, metal spiked shoulder bags, etc.
3. Don't Forget About the Hairstyle
The goth look feels incomplete with a regular haircut. You need a unique look. There are a lot of options to experiment with: bangs, razor cut, spike, Bantu knots, urban mini charm hop, classic half-shaved head, curly with long or short hair, straight, etc. You also can wear hair extensions for a new look without having to worry about damaging your hair. Extensions are available in any color or texture you want.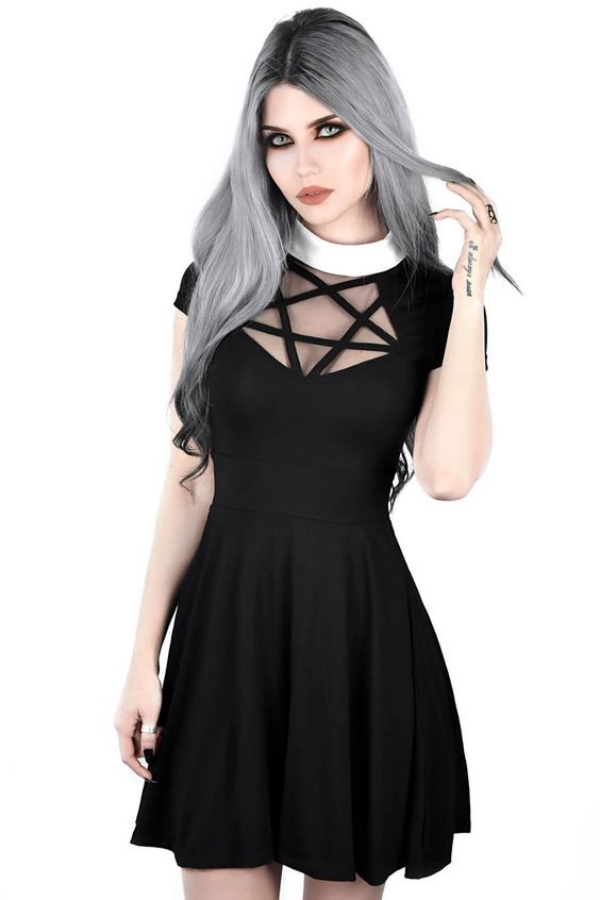 The look will get more attractive when you add a vibrant color. Pink, red, blue, green, purple, or even yellow can be interesting. A burned ash color will also add a snowy vibe to your look.
If you are looking for a drastic change in your style, you should definitely consider a tattoo. Tattoos with a demon, wolf, dead horse, satanic or dark scenario, demonic sign, animal skull, or spiderweb are the most common types. Getting a motivational or dark quote will also modify the look with more personality. Put it on your neck, eyelid, or cheek to slay your demonic look.
4. Be Daring With Your Makeup
Don't do a normal, boring makeup look to a gothic-themed party. You should be dark and ravishing. Smokey eye makeup is a must. Try a different look for your eyebrows also. Trim them into the shape of bats or shave them completely and draw any shape you want. Thick winged eyeliner always enriches the gothic look in a more demonic way. But do not draw a single wing; go for a more unique look with multiple wings or draw a tiny spider or bat at the corner of your eyes.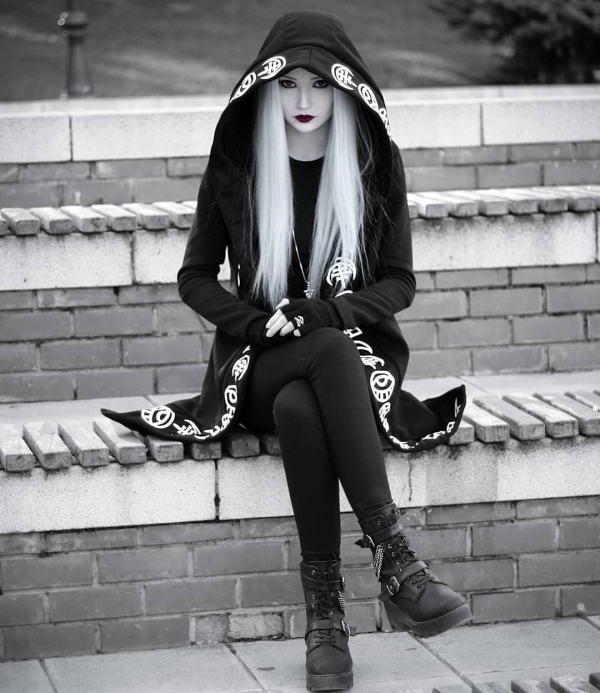 The gothic look is always enhanced by custom contact lenses. There are lots of colors available, like black, dark blue, red, green, purple or yellow. Prints will give you a wild vibe.
You also can glue some spiked ornaments or stones in the upper lid of your eyes to make them look more satanic. Draw some cool patterns on your face with removable face paint. You can get a cringed look with some red color, a thunderstorm with glitter black color, spiderweb, flying bats, or some demonic images.
Put some dark blush on your cheekbones. You should go with dark red, deep pink, chocolate red, sea green, or dark blue. Draw a removable tattoo on your cheek also. Some black roses will add a witch vibe to the look.
Finally, you may finish the look with lipstick. Black lipstick has always dominated the gothic look. A blood-red color will also express your personality. One of the best recommendations is nude lips, which will highlight the dead vibe of your costume.
If you are going to a gothic-themed party, don't stick with all black. There are plenty of options to enhance your look and make you the goth princess of the party. You can add a twist to the party with some simple magic tricks as well. Goth fans always like different things.