Instagram influencers' pages have started to become the number 1 source of inspiration for the persons who want to find out the latest trends in fashion. My feed, your feed, our feeds are full of influences who show their outfits with the purpose to fuel our shopping habits. And no, no one is thinking to unfollow them, or to stop buying clothes. Why? Because our favourite influencer is wearing that leather jacket. If you will scroll through the posts of multiple Instagram influencers, you will notice a recurrent theme, they are all following the same trend, they have started to wear snakeskin prints.
If you are a fashion passionate this trend will not surprise you, because during the fall the main trends were the ones that promoted animal prints, like crocodile, tiger, zebra, tiger and leopard. Snake print is the normal and natural evolution the fashion industry is promoting.
Why should you love this trend? Because it is versatile. Instagram influencers are proving that you can pair a crewneck sweater with snake print ankle boots and you have a majestic look to get out of the house.
Here are some ideas influencers have promoted on their accounts. Take notes, they will change your life.
How To Wear Snake Print This Year
Jeans, Blouse And A Snake Print Coat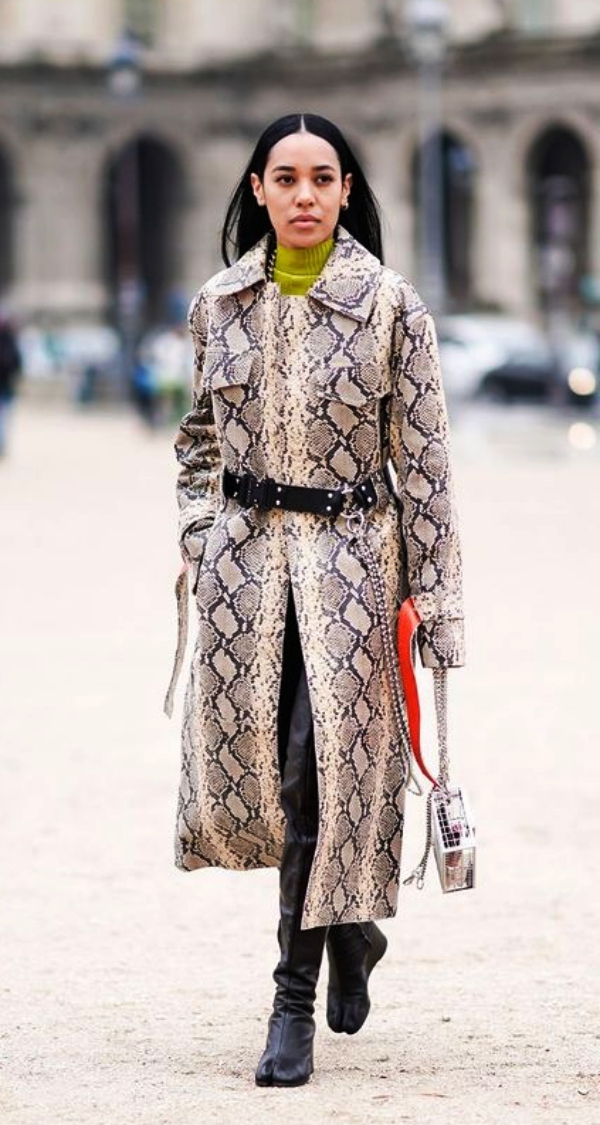 If you want to let the snake print steal the show, then you will have to go with a major piece. The coat is one of the largest clothing items you can wear; choose it in a snake print. It is a timeless piece; you only will have to find ways to accessorise it with different items from your wardrobe. For this outfit choose a mom fit pair of jeans, a white blouse, and a mustard coloured purse. You need personality to wear this outfit. If you are afraid of combining two hot trends, stick with a single one; go with the jacket.
Blouse, Snakeskin Skirt And Boots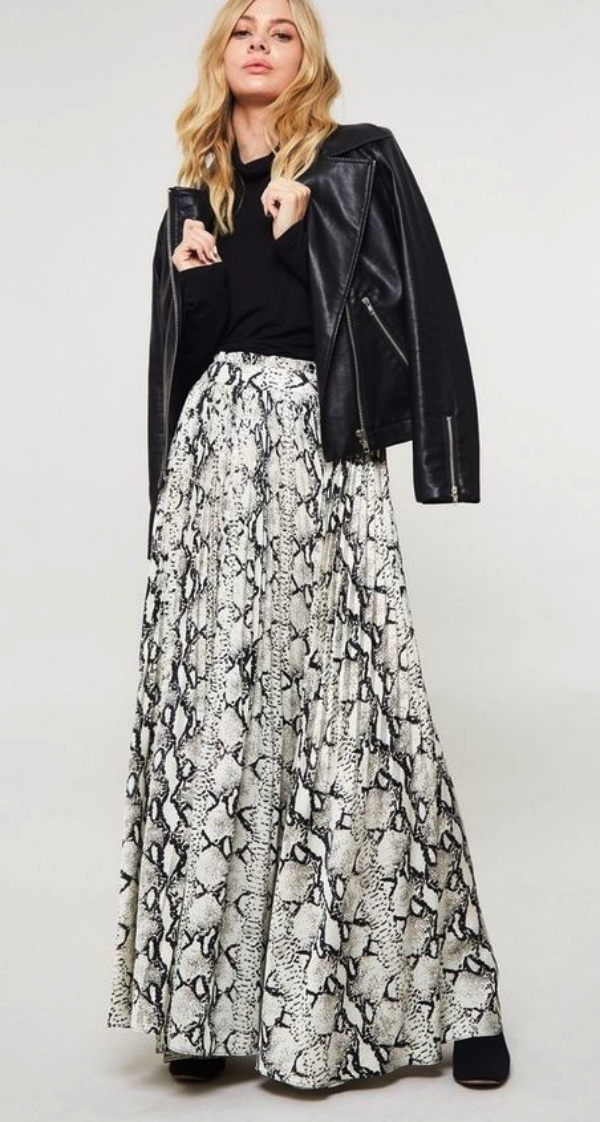 It does not matter if you prefer long or short skirts, as long as they have a snake print, you will look exactly like your favourite Instagram influencer. All of them wear snakeskin skirts with a loose knit blouse. The best combination is between the print and a black top. But, if you want to soften the look, and you want to take it to the office, you can opt for a longer skirt, with a nude blouse. And for the boots, you can choose a black one, or one in another print if you want to make a bold choice.
Snake Print Pants And Button Down Blouse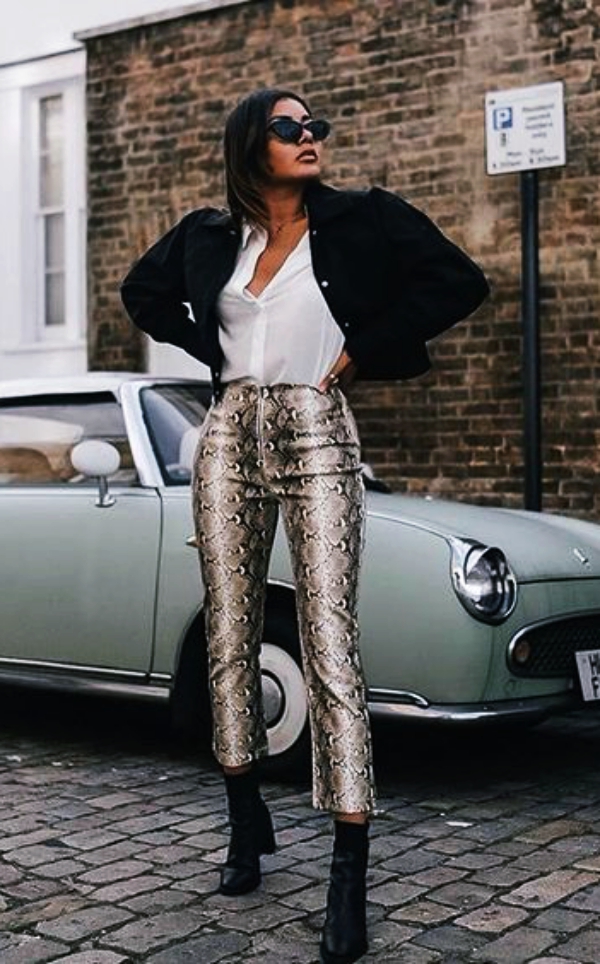 Influencers state that this is the outfit they would wear for a business meeting. Well, they can do it, because their meetings are with people who accept courageous clothing combinations. If you have a more conservative job, you can wear this outfit when you go out with your friends, or during a date. What this outfit says? Party at the bottom, business on top, it is an unexpected combination; this is why everyone loves it. You can choose the blouse in white, or you can wear one in a soft shade of pink.
Midi skirt, sweater and snake boots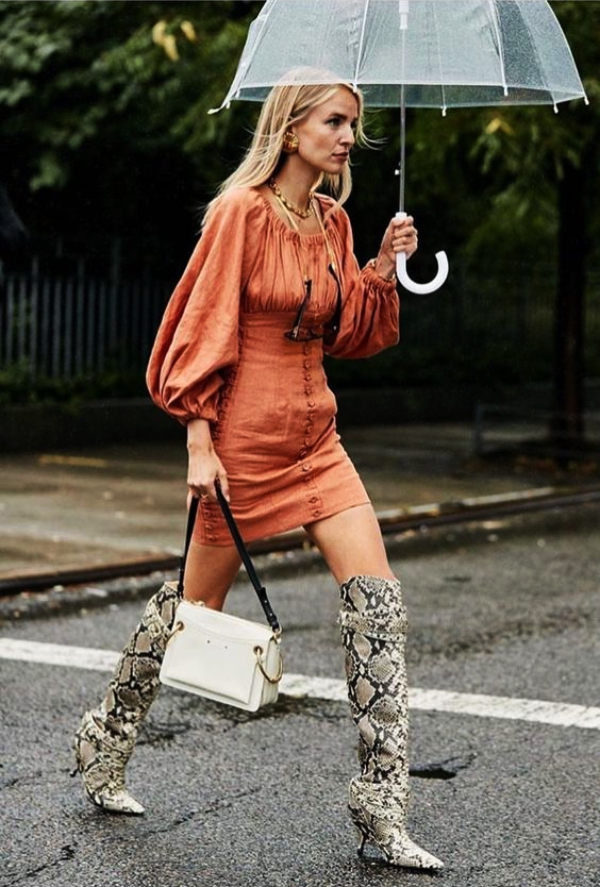 If you are a passionate of feminine outfits, then you should take your midi skirt out of the closet and pair it with knee-high snake print boots. Play with the colours; choose a nude tone for the skirt, to centre the attention towards the boots, and something bolder for the top. If you want to wear short skirts, you should choose an ankle pair of snake print boots, this pair from Isabel Marant is one of my favourites. If you want to wear the snakeskin boots with a short skirt, choose a denim one. Pair it with a denim top, or a top in the same colour as the skirt. Boots are an essential piece this year, no matter the season. Upgrade your wardrobe with a reptile printed pair.
Snakeskin Midi Skirt And A Printed Sweater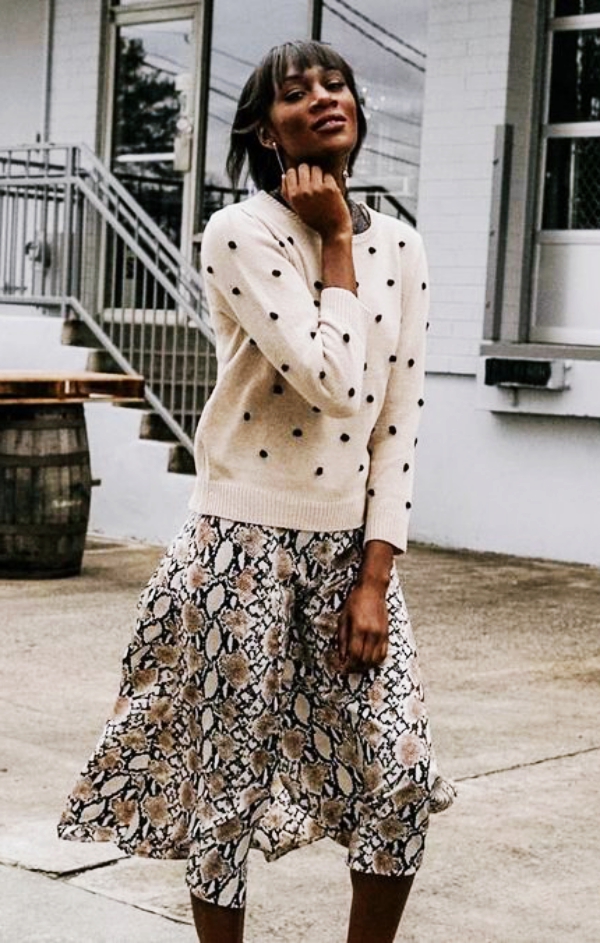 Yes, the more prints the better. Now, you need courage for this one, because you will have to use your creativity and pair two prints. People will look at you, and some of them will admire your choice, while others will judge your outfit. You should not let them bother you, or influence your choices. If influencers can wear this combination, so do you. In order for the outfit to work, you should choose a neutral colour palette. Do not overdo it. The blouse can come in a pattern in different shades of brown. The perfect skirt has a light shade of nude and the shoes should match the shade of the top.
White Boots And Snake Print Dress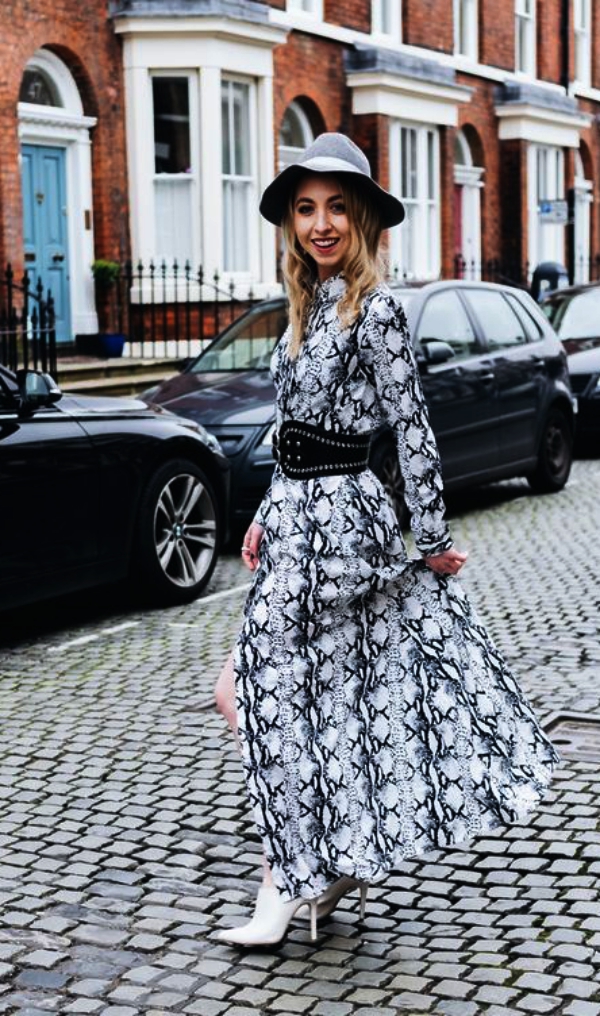 If you want to become a trendsetter this is the first step you have to make. You should get the snake print on the streets, and you should do it with a piece that has maximum effect. A flowy dress will help you cover your body in snake print in a feminine way. Accessorise it with a belt on the waist, to accentuate it, and to make the outfit look more balanced. Let the dress be the star of the outfit, opt for white boots, they will complement the look in an elegant way, but they will not distract the attention.
Snakeskin Bag With Any Outfit
If you are afraid to make extravagant choices, but you want to wear the print of the season, then you can check the ideas that include snakeskin bags. Regardless of the colour of your clothes and shoes, the snake print bag will look great, and will add a pop of style to your look. You decide the shape and size make sure to consider the rest of the outfit when you decide upon the model of the bag, because it should remain the central element of the look. If you want to impress with a simple assembly, you can opt for a neutral outfit paired with white boots. Snakeskin bags upgrade your look, and add it more elegance, every woman should have at least one in their closet.