What's in and what's passé this season? Get to know here
2018 has witnessed a new lease, and a fresh breathe of air regarding men's fashion especially the fall trends that gained quite a popularity because it took strong cues from the past and blended them with of-the-moment elements, this gave the clothing accessories a kick of uniqueness and exquisiteness which have never been seen before. Starting with the vintage checks which was heavily in the trend for women, made their way in men's fashion. Many designers incorporated these checks in all sorts of menswear especially in leather jackets which never goes out of fashion.
One more thing that all guys look forward to this season is a rise in comfort dressing which according to me is quite underrated. Loose garments and soft textures which includes soft fur, fleece, velvet and viscose lining are here to stay for the longest time. 70's trend is also coming back again this season and includes glossy, embossed leather jackets, flared pants, denim and suede fabrics. As per Vogue "This season's wardrobe is designed to protect the wearer so he can take on the modern world with confidence, with extra-large shoulders, padding, leather jackets and superlative layering". Vogue which is the biggest name in fashion suggests that logomania and layering is the new black this season. The current trend harked back into the era that was more street and more bling, therefore many designers have come up with such jackets which have a pop of vibrant colors, embossed logo and comfort and warmth to give the feel of superficial layering.
Leather Jacket, An accessory which never dares to go out of fashion
"I always thought that my life would drastically improve if I got a leather jacket and I was 100% right", this is said by a lot many people who own a leather jacket including me. Personally owning and flaunting a leather jacket I can undoubtedly say that it can do wonders for your personality. There is nothing better than a comfortable leather jacket as the way it feels against your skin and jazz up any look is heavenly. Leather jacket trend started in 70's and gained quite a popularity because of the badass vibe it exuberates, but honestly, you don't need to be Joey Ramone to pull off the leather jacket.
In this fast fashion world, everyone needs at least one piece of apparel that can be worn on every day as well as on special occasions and stick around for the long haul both regarding style and physical performance, a good quality leather jacket does precisely that. A good leather jacket will last decades, and if treated properly, it might have a chance of outliving you. Why should you opt for a leather jacket and invest in it? Reasons are numerous to state, beginning with the attitude, style, funkiness, class, uniqueness and the bad boy vibe it gives preceding with the protection and warmth it offers.
Moreover, it is a durable and statement-making accessory which makes you stand out from the crowd. Another question most commonly encountered is whether it can be worn on a daily basis or is just restricted to occasions? While there may be the temptation to reserve it for special occasions, your leather jacket is going to look better the more you adorn and flaunt it. Just team it up with a casual plain tee and a pair of washed out denim or informal trousers, and you are ready to rock the casual look without being over the top. Whereas teamed up with leather pants or formal trousers or formal pants and a formal striped or plaid shirt, a leather jacket can be apt for any official meeting or party.
Man of Steel Superman leather jacket is the only trendy, on fleek fashion accessory you need to have to make a fashion statement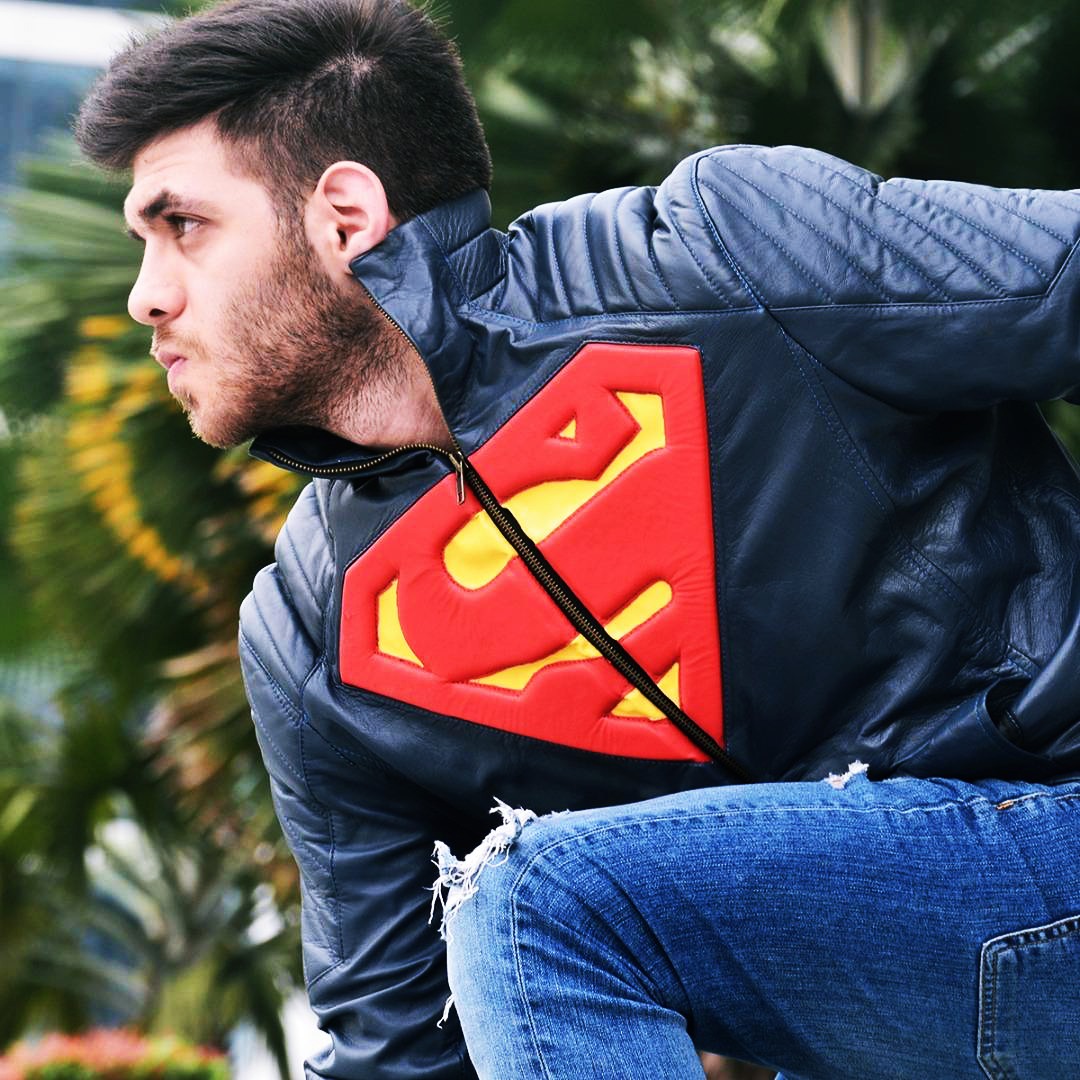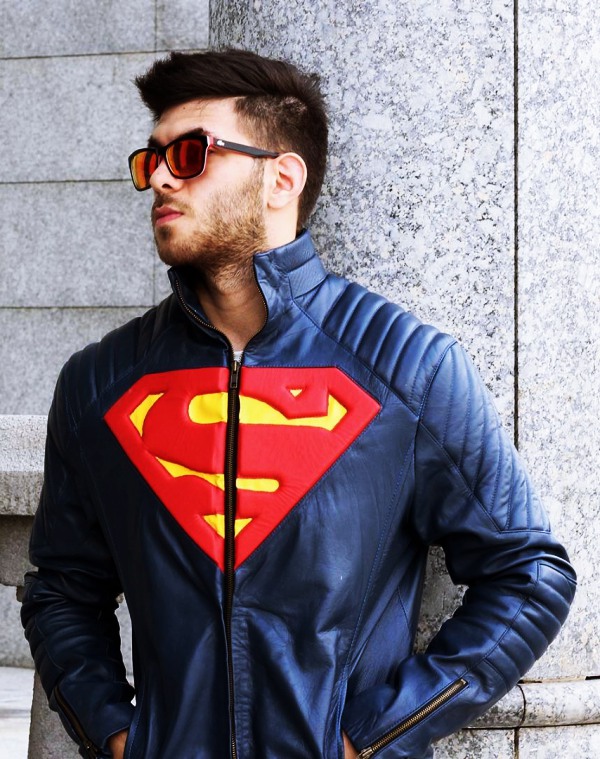 So, hold your breath guys here we present you; your dream leather that too in a budget. Seems unfathomable to digest right? However, it is a reality; now you can get your hands on an extremely high-quality Superman Man of Steel Leather Jacket that too in a cost that is agreeable to your pockets.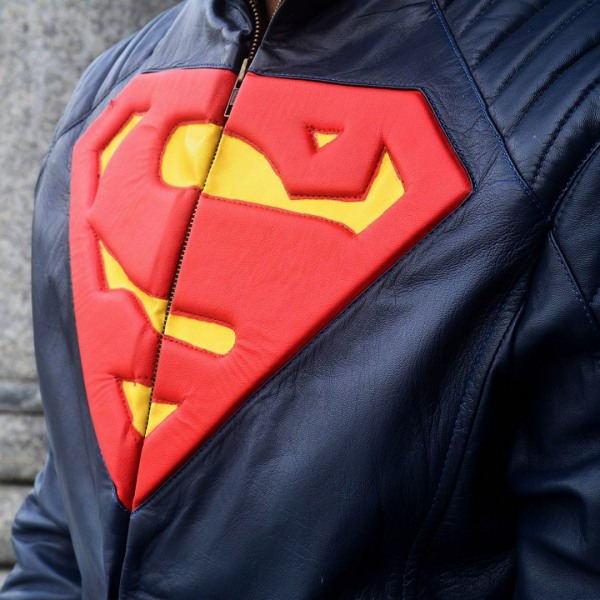 In 2013, Man of Steel is a must watch for all the ardent, diehard fans of the superhero flick predominantly the Superman ones. Clark Kent aka Superman is on the mission to save the earth from the brink of destruction from the army of survivors in Man of Steel. Henry Cavill has brilliantly portrayed the character of Superman and gave it the apt amount of depth and dignity which was required. This movie earned enormous amounts of money at the box office and got terrific reviews not just for an amazing storyline, cinematography, and visual effects but also for the bold, fierce and feisty costumes that were adorned by the star cast especially the jacket worn by Superman. The blue jacket with red Superman logo embossed on it is so hot and happening that it can completely change outlook towards your persona in seconds.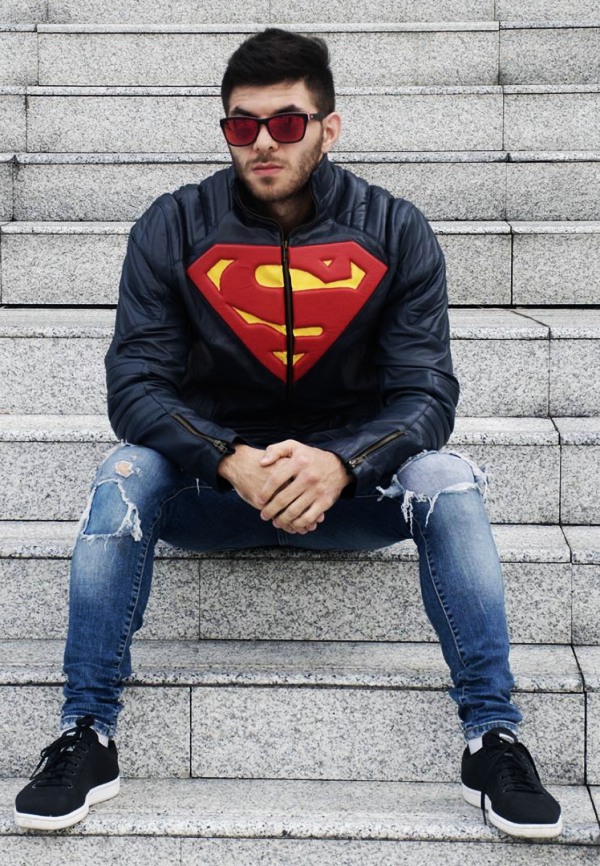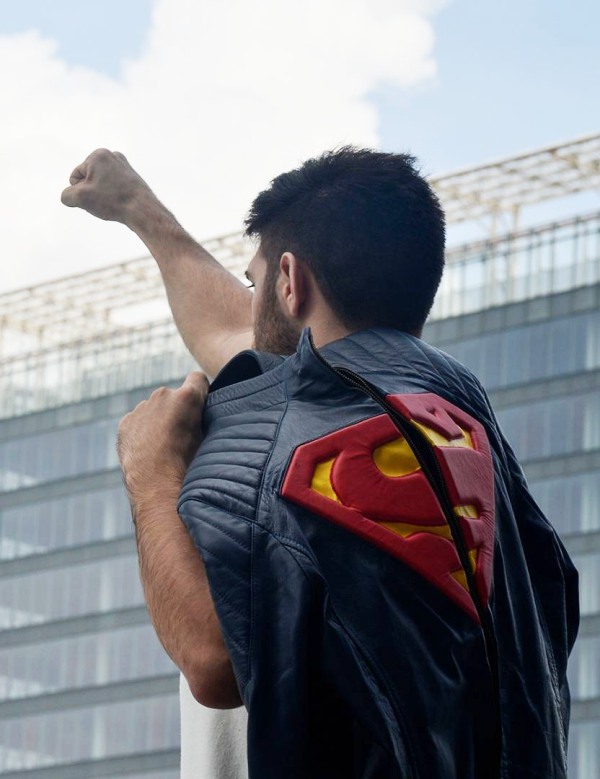 The exact replica of the jacket is curated with top notch quality Faux/Genuine leather with a glossy finish which gives it the apt amount of sheen to get you noticed. It has a viscose shearling to make it a comfy and cozy wear and even provide you with warmth. Stand up collar adds to the fashion quotient of this jacket as it is the latest trend. YKK zipper closure and zipper cuffs make it a trendy yet unique piece. It has 2 inside pockets for carrying essentials. The most eye-catching and attention-grabbing part of this jacket is the Superman logo embossed on it. This jacket not only fits you perfectly but gives an illusion of a muscular look and desirable physique. So what are you waiting for? Fulfill your dream of getting a leather jacket that to Superman-inspired to make you look as macho and tough as your favorite superhero.
Your one-stop destination for all sorts of vibrant and happening Superman jackets
If you are a fan of Superman jackets adorned by him in various movies to Smallville series and you need a reliable online shopping destination to get them, then TheLeatherCity is the place where your search finally ends. TheLeatherCity provides you supreme quality handcrafted superman inspired leather jackets that are an exact replica of the jackets adorned by your favorite superhero in terms of quality, stitching and design but way too budget friendly. So head to Leathercity as soon as possible and enjoy your heavenly experience in this shopping paradise.