If you are a fashion girl, you might find yourself always searching for good nail art design and colors to put on. Fashion is just like seasons, it keeps on changing only to return back again. This time around in summer, you need to know some cool summer nail art designs and colors so that you can impress yourselves and also those who see your nails.

During summers, a few things that we need to consider while getting a nail art is that it should be eye-catching, fresh and fun to look at, have intense and bold colors, bright hues and saturated colors work very well along with vivid shades and day-glow neons. Here, we present some attractive sparkle designs that match well with your outfit and are perfect for any occasion.
Summer Nail Art Designs and Colors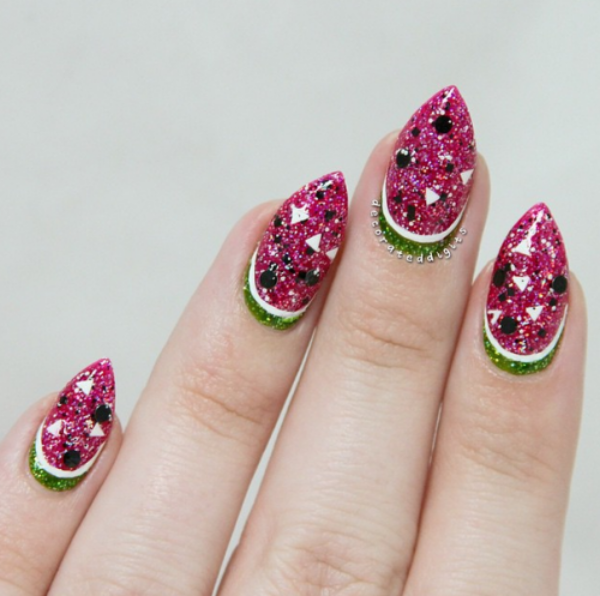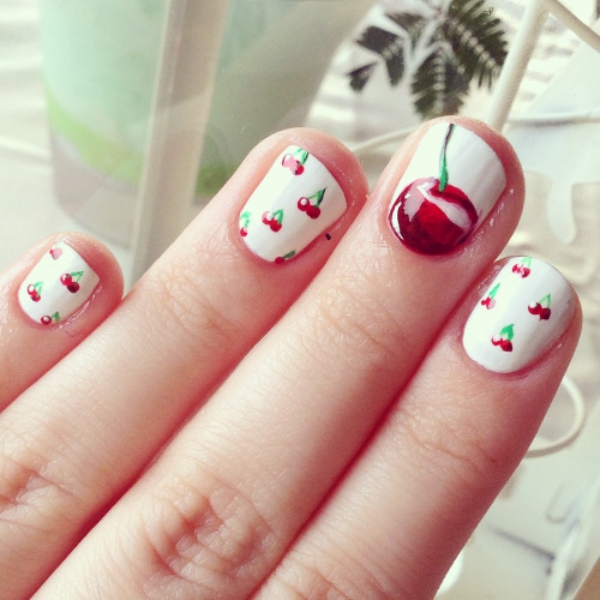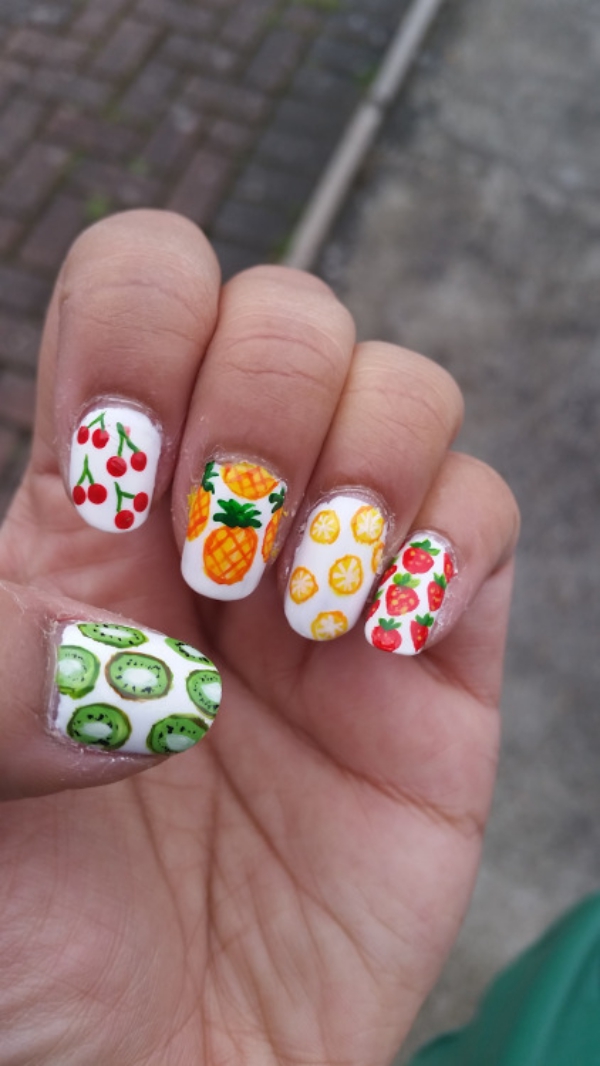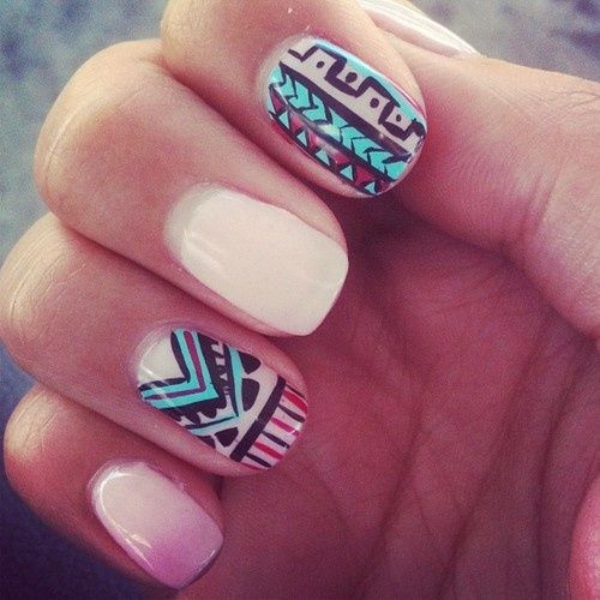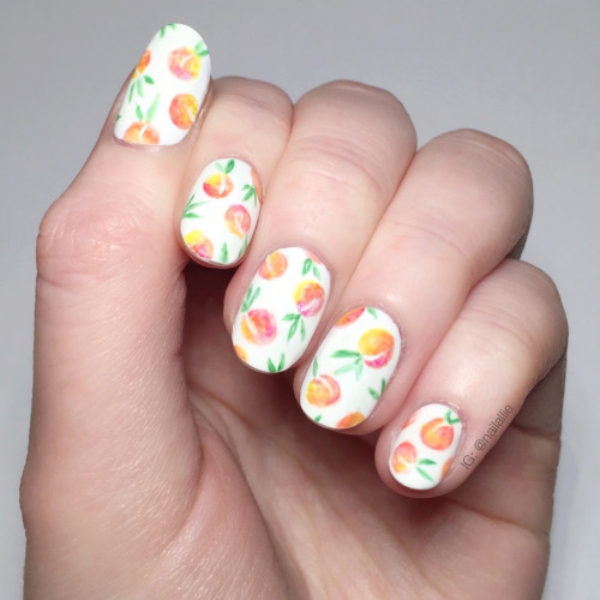 Here are some Creative 3d Nail Art Pictures along with extremely useful tips and tricks to motivate you through all those tougher manicure artwork. Let's check out some of the best summer nail art designs and colors.
Two shade summer pastels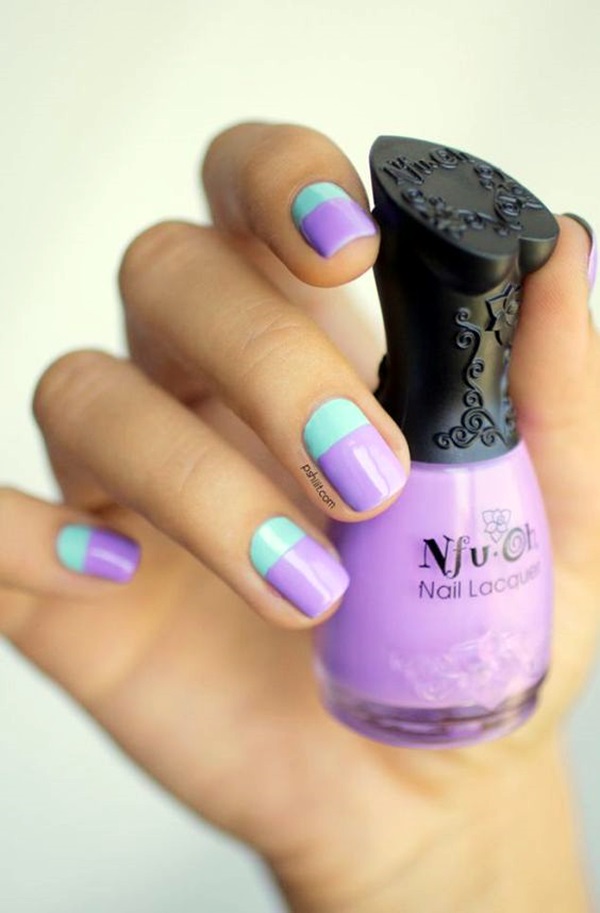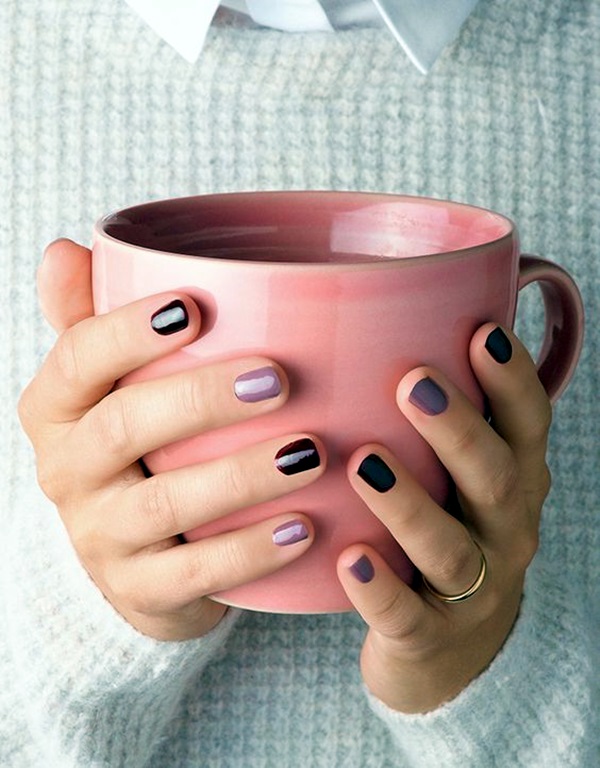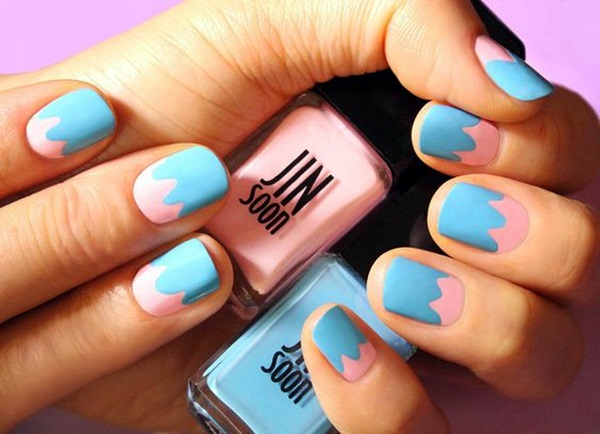 Light shade pastels look great because they are summery colors. Aqua, Peach and turquoise blue are some of the colors you might want to try combinations with. Pairing the colors rightly is the key to getting this nail art perfect. You can use this design in various ways but the most common ones are to either have two shades diagonally or horizontally on the top portion of your nails.
Random color splashes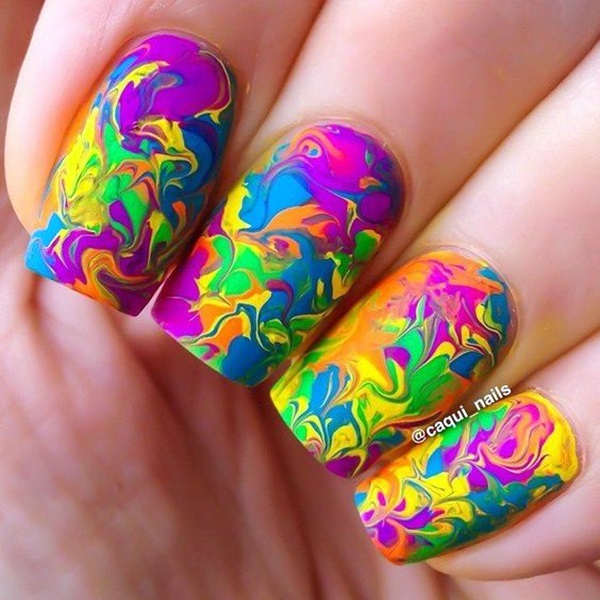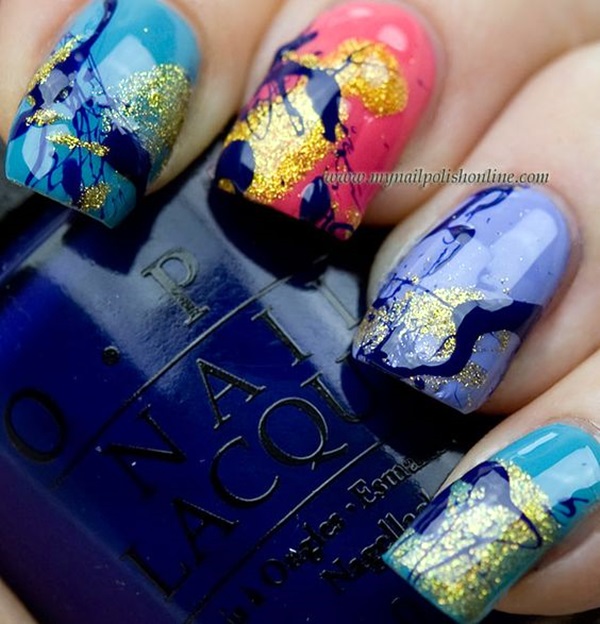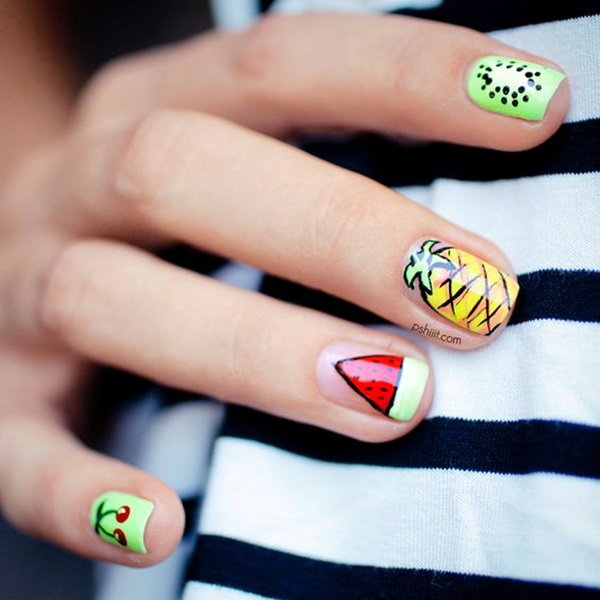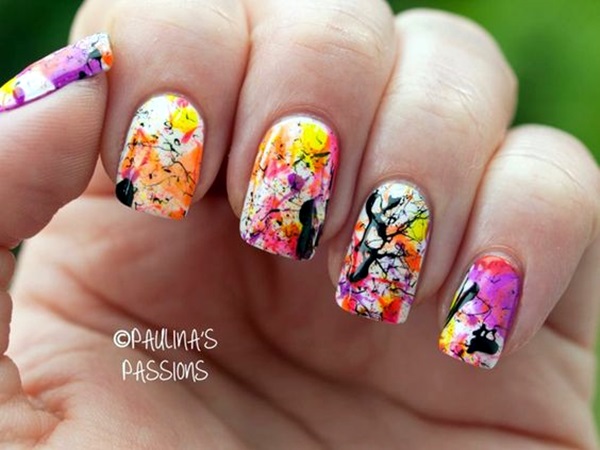 Summer and vivid colors are deeply associated and with a horde of different colors on your nails, it would look like the perfect summer. This is among the best summer nail art designs and colors you can choose to have. They can be done in a lot of variety and would look great when carried properly. A splash of vivid colors on your nails would look attractive yet funky at the same time. Leopard prints serve as a great way to express your love towards wildlife and this nail art can be done very easily using only three polish colors.
Watermelon nail colors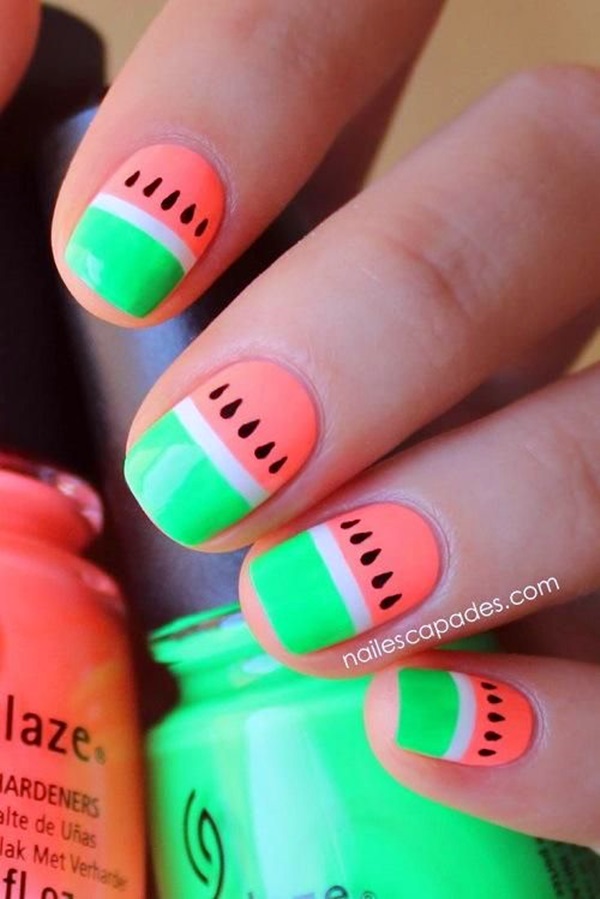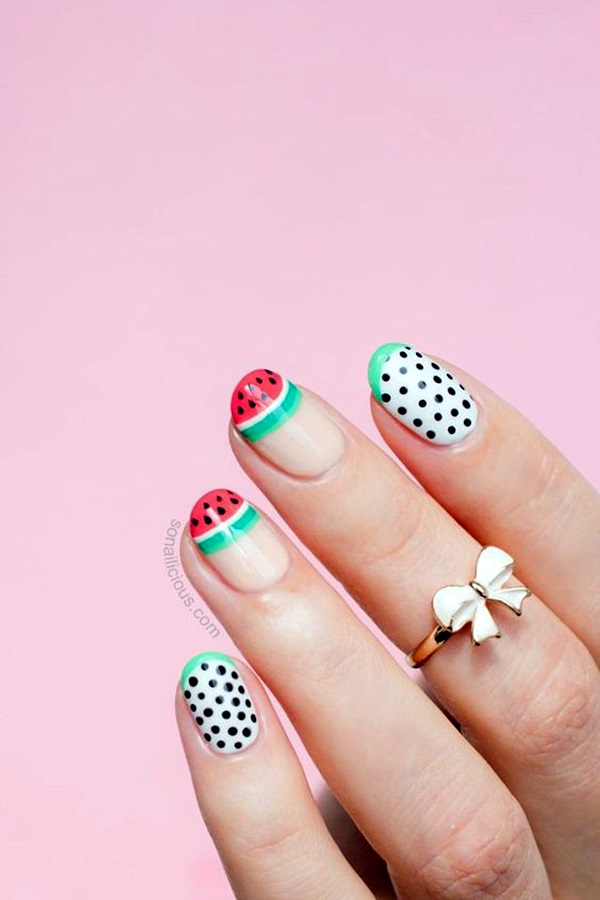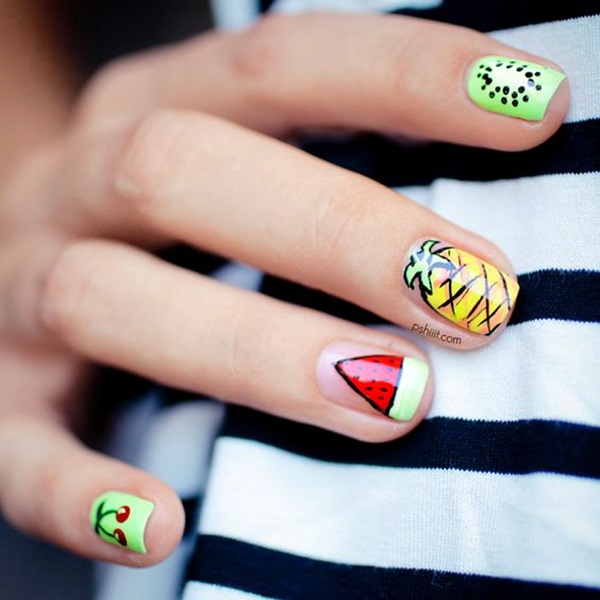 Nothing says summer like watermelon and with this design, you can get it on your hands too. The trick is to paint your nails red and green which would resemble the colors of the summer fruit. You can also fancy the art by adding more elements like black dots representing seeds. This would be something unique as well as eye-catching and give the perfect summer feel.
Vibrant Polka dots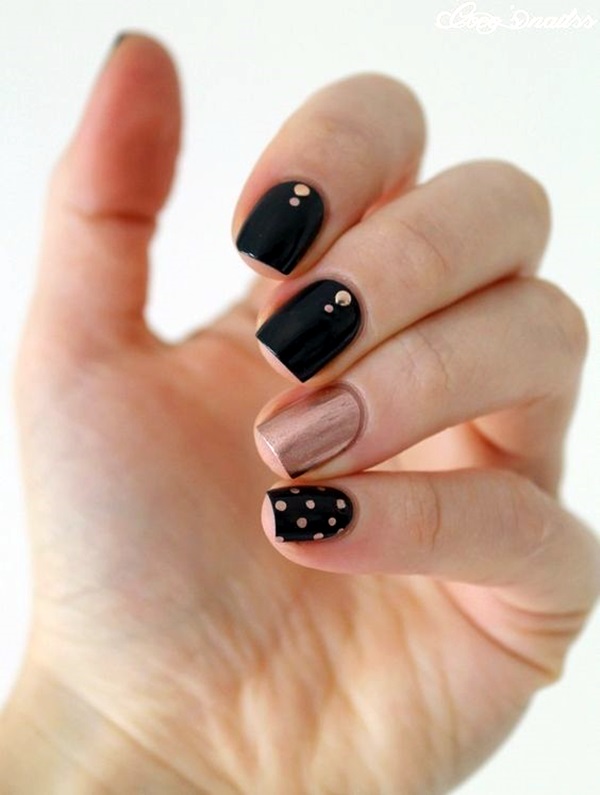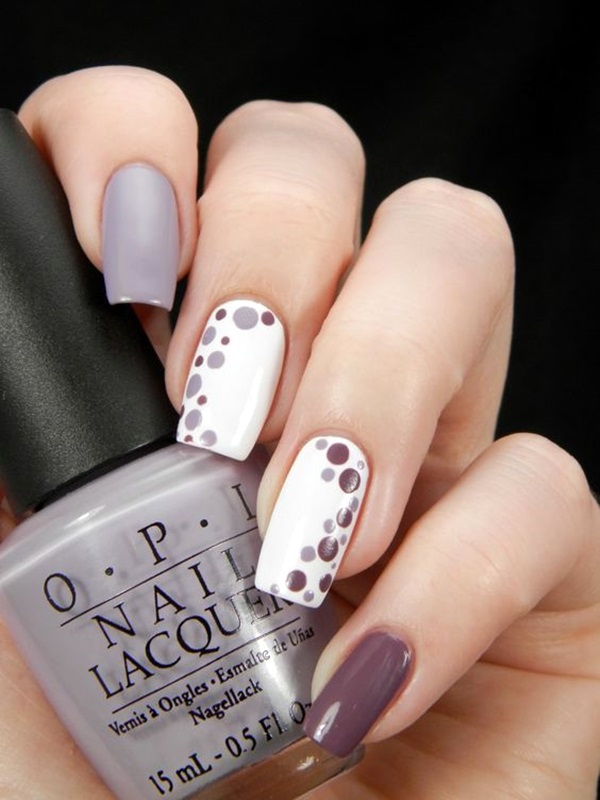 No matter what season it is, Polka dots will never go out of fashion. They are an evergreen trend and can be used for all fashion trends. For a summer look, you can pair the polka dots with a vibrant background color. You can also have bright polka dots on a light background color to make it look more appealing. It is among the trendiest summer nail art designs and colors.